When brands redesign a package, most of the robust consumer research occurs at the end of the process after they select the new design.
But what if designers had access to helpful data early in the process when it could still have a meaningful impact on creative development—such as when setting the design strategy and iterating on initial concepts? Designalytics, a research company focused exclusively on design performance measurement, has been posing the same question for the past few years. One way they've answered it is by partnering pro bono with colleges on an experiment, asking: Can design students, armed with the right information at the right time, develop updated packaging for a major brand that outperforms its current design?
This past semester, four seniors at the Pennsylvania College of Art & Design (PCAD) undertook this challenge. They were given realistic guardrails—for example, they couldn't reinvent the brand's logo or throw out a highly-distinctive asset. "Most art schools give assignments that are pretty pie-in-the-sky, where the student chooses something aligned with their interests and they develop everything. Good instructors make them flex their muscles in other ways," said Tom Newsmaster, an instructor at PCAD and principal at FORCEpkg, a design and branding agency.

For the students, the experiment isn't just a crash course in leveraging consumer insights, it's an exercise in radical objectivity. "Having access [to data] as a designer really clears up that blurry line—like, 'Okay, this is an individual telling me this, but I think this.' So, who's right? You're not thinking about who's more qualified to be saying this when you're seeing it in a trend," said Paige Bowermaster, one of the students in Newmaster's class.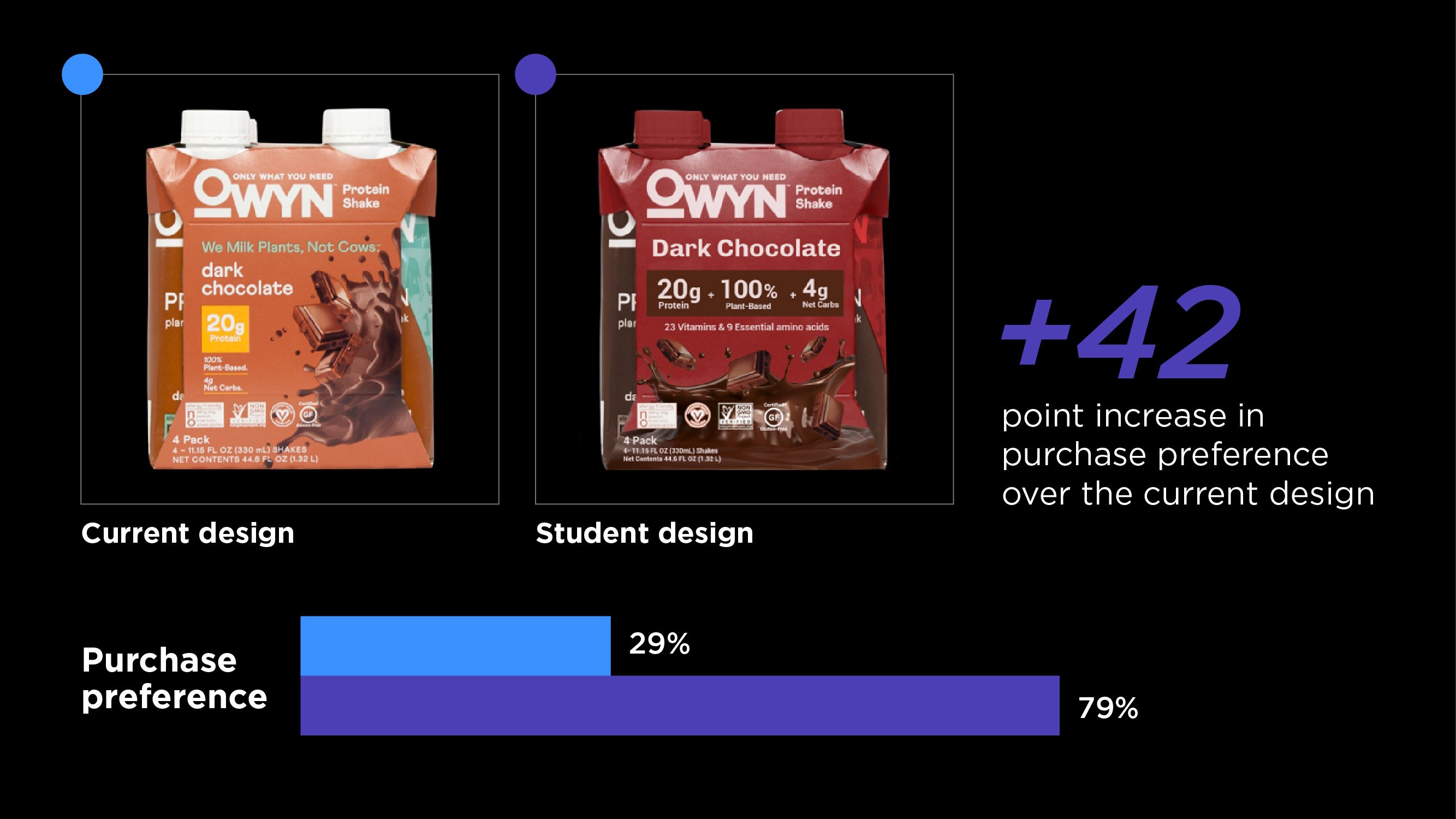 To begin, the students chose an existing consumer-packaged-goods (CPG) brand. Designalytics supplied them with in-depth data about how that brand's current design and those of its top competitors were performing with consumers. That included information about standout performance, communication, distinctive assets, element-level diagnostics, and more, all of which highlighted areas of relative strength and weakness for the brand. For example, Alex Serna, who undertook a redesign of Owyn protein shakes, noticed something critical in the consumer data: "People didn't get the package color—it didn't look appetizing or convey 'dark chocolate' very well." Serna's redesigned packaging, which outperformed the brand's current design, utilized a rich maroon background and darker chocolate.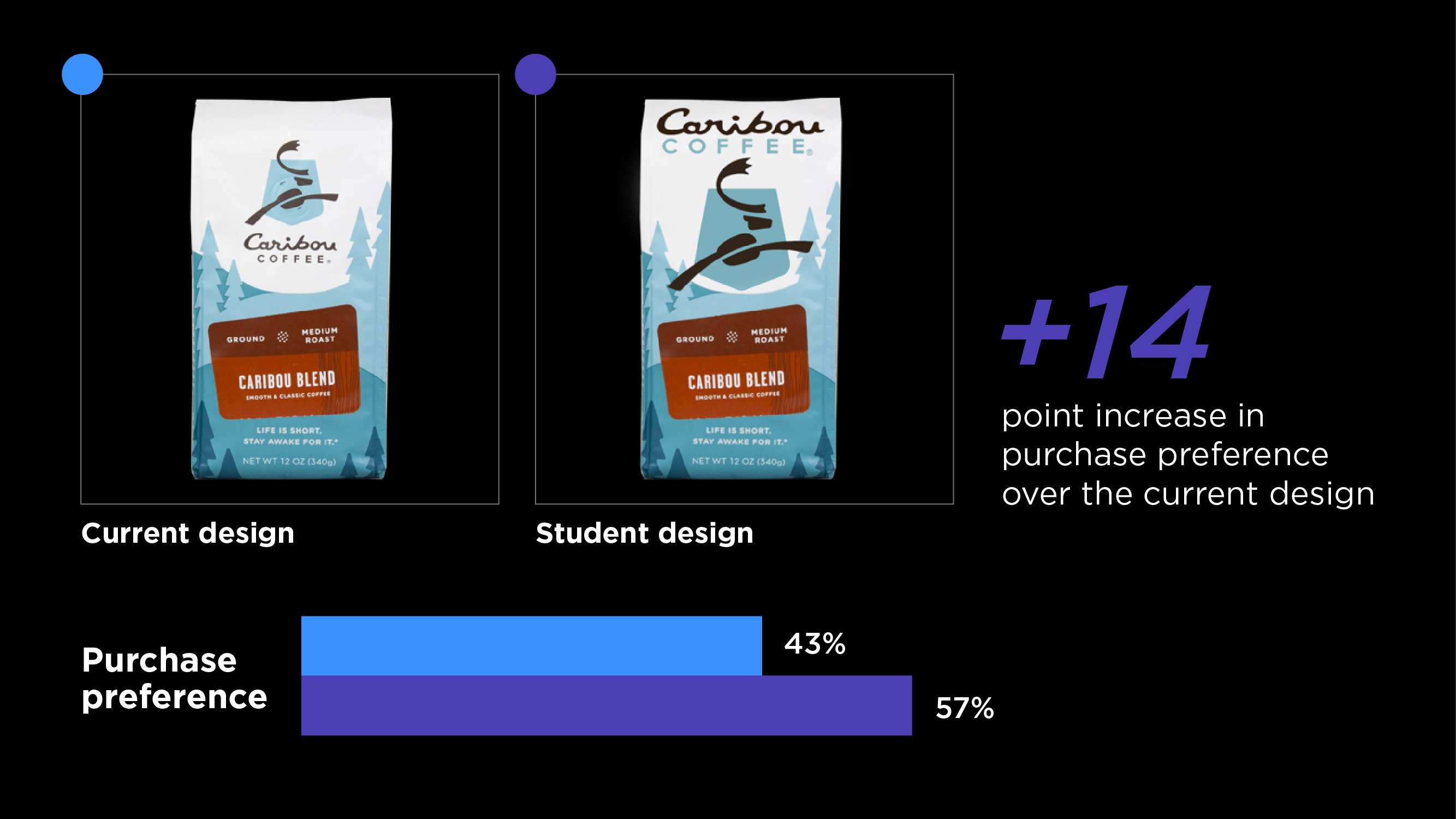 Armed with this trove of information, the students developed three initial concepts for their redesign, each of which Designalytics tested with more than 200 category buyers. The research yielded highly-predictive quantitative data about whether the design would likely drive sales in market. Not surprisingly, some of the designs scored worse than (or on par with) the brand's current design—but some performed notably better, and it's not a stretch of the imagination to believe those results.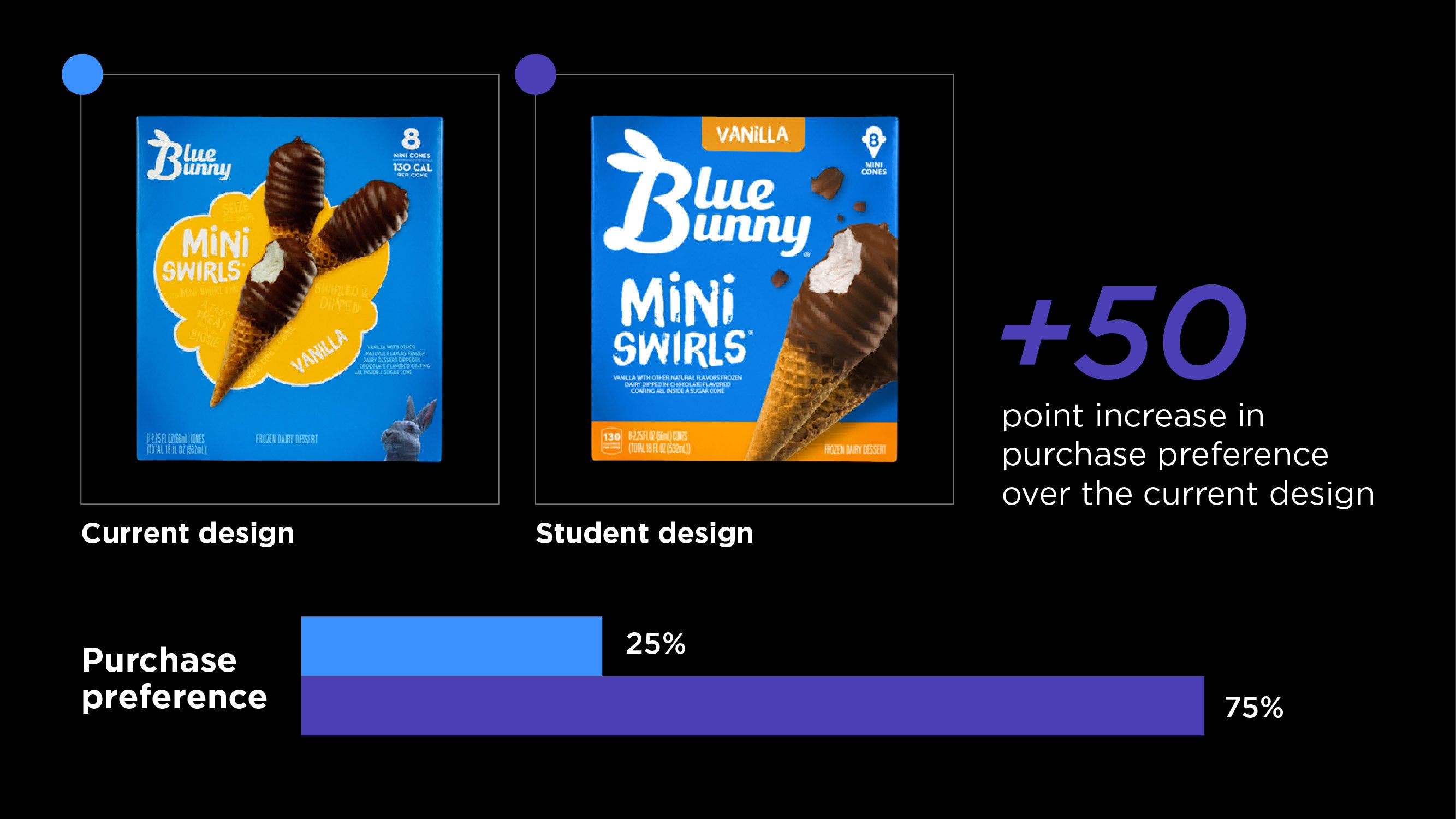 For example, Tyler Handa's redesign of the Blue Bunny packaging amplified taste appeal, the top purchase-driving attribute in virtually every food and beverage category. "Originally, they had the ice cream arranged as three cones shaped like a bunny head. The research showed that some people saw that while others didn't. And I thought, 'What if you just had one cone and really sold the appetite appeal—really went bold with that?'" said Handa. In fact, Handa's tasty revision made a massive difference; when asked which design best conveyed "tastes great," three-quarters chose his design, while only one-quarter chose the existing design. Handa's revamp also made significant leaps on other attributes related to taste and quality (e.g., "premium," "ice-cream-shop quality," "authentic taste," and more).
The initial research also yielded hundreds of open-ended responses from consumers about why they preferred a specific design concept, which helped the students to identify potential issues with communication (e.g., removing a claim that consumers value), product imagery (e.g., reducing appetite appeal), legibility, and more. Embracing the value of iteration, the students refined their most promising design route based on what they'd learned from consumers and re-tested it with a new group of more than 600 category buyers.
The results? All four students dramatically improved upon the existing design's performance. For context, according to Designalytics' syndicated redesign database, which includes hundreds of launched redesigns, the average redesign generates a 0% improvement in purchase preference over the prior design,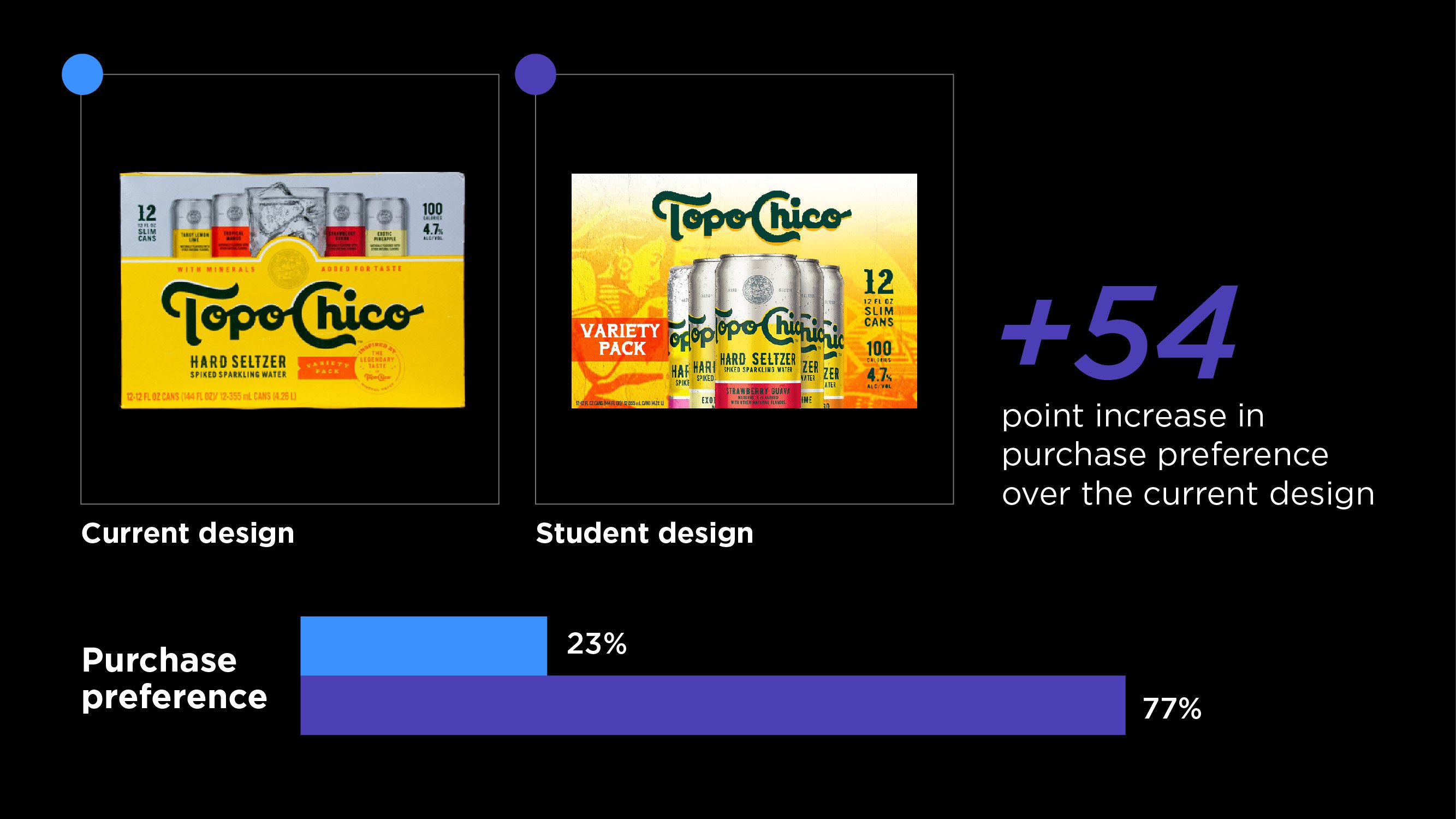 "I think now [the students] see their value as a designer as they've never seen it before," said Pam Barby, chair of the graphic design department at PCAD.
The experiment raises a few long overdue questions about when research gets incorporated into the creative process at most companies (why so late?) and what kind of insights it provides (why a design is working well or not, not just whether it is).
"These are the results from student designers that I'm helping along the way. Just think how good it could be if we—the professionals—used this same research and did it," said Newmaster.