For some brands, the word "redesign" can be scary.
Whether you're a category leader or a plucky upstart, the idea of changing your package design can seem both daunting and foreboding. After all, your design is very much the face of your brand, so there can be concern that altering it is a gamble.
There are two issues with such hesitancy. First, the availability of syndicated design performance data and the option for swift, diagnostic screening of your current design means your brand need never be without a clear, point-in-time assessment of your design. Once you see data on how your design is performing in a range of metrics—not to mention how your brand compares to competitors'—making certain design changes isn't a gamble, it's a thoughtful response to measured results.
Second: Redesign isn't an all-or-nothing scenario. In some cases, an overhaul may be necessary, but in many (perhaps even most) cases a more nuanced approach is called for. Often a simple tweak or two can pay big dividends.
That's why astute brand marketers often approach a potential redesign with the proverbial scalpel rather than a sledgehammer. Here are 10 savvy brands that maximized their designs' effectiveness with relatively minor changes:
Nature Valley crunchy granola bars
Adding imagery to your design that upgrades the product's taste appeal can really increase your design's effectiveness. By highlighting its granola bar's tastiest ingredient—and adding a visual of a honey dipper to showcase the gooey goodness—Nature Valley increased overall consumer preference by 60 points— 80% vs. 20%, for the new and old designs, respectively.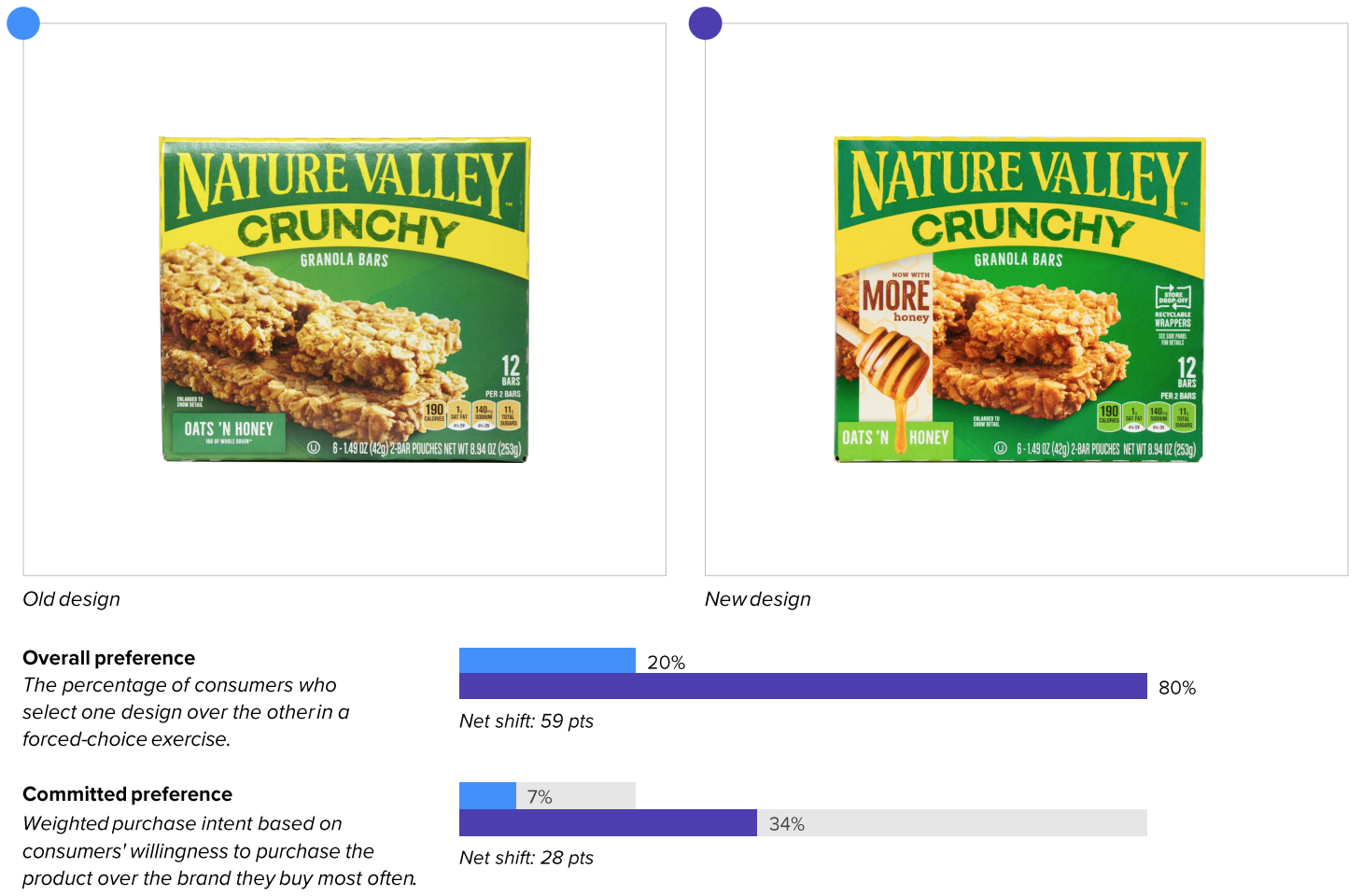 Carmex lip balm
Carmex's bright yellow packaging and simple red logo help it perform well in standout and findability amidst competitors. But the brand saw an opportunity to improve overall appeal and communication of key messages, and its redesign capitalized.
For the old design, consumers "liked" the logo more than any other element of the design. When asked to click on specific elements of the design they liked or dislike, 19% of all clicks were devoted to liking the logo. (In truth, there wasn't much else to like on such a simple package). The most liked design element of the new design, however, was the "Triple Force Formula" badge—42% liked it.
This one added element helped the new design communicate better on every single decision driver, and by monumental margins. Overall preference for the new design was a whopping 86% vs. 14% for the old design.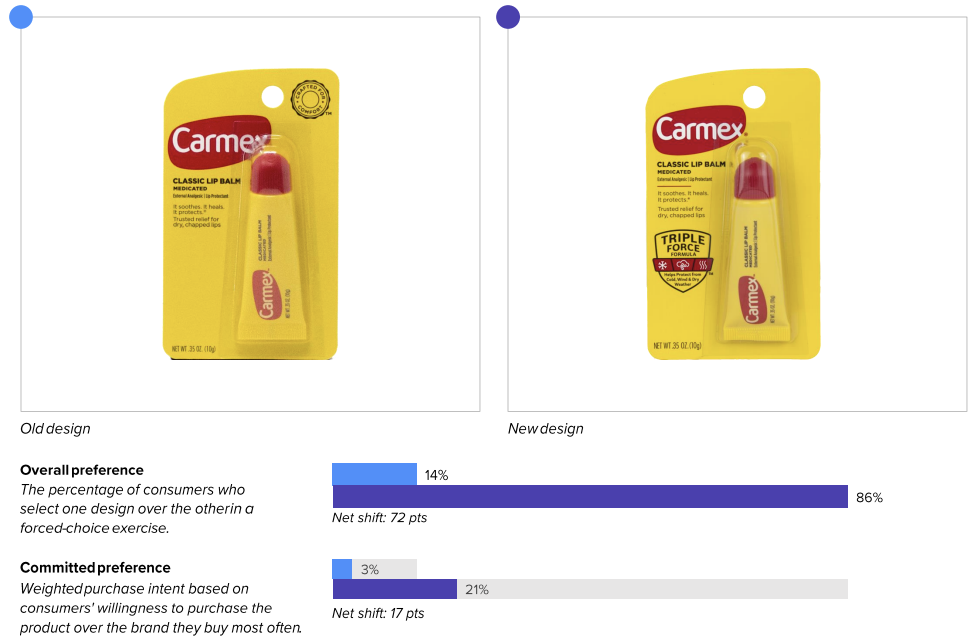 Fiji water
As a stalwart in the premium bottled water space, Fiji likely didn't want to mess with what's been working for well for its packaging. So rather than add anything to their bottle, they simply amplified a key distinctive asset: the hibiscus flower.
Consumers overwhelmingly preferred the new design, 84% vs. 16%, and many noted that it was because the larger flower simply caught their attention more than its smaller counterpart. That wasn't all, though: Several consumers pointed out that the larger flower was "more appealing" and one said, "For some reason, the bigger flower makes this seem more refreshing."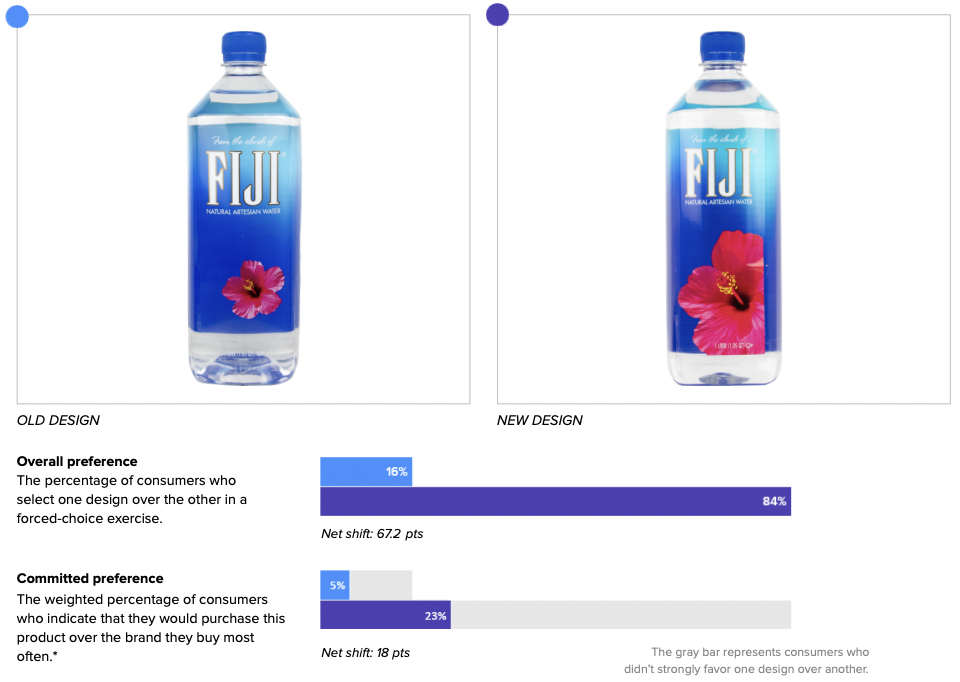 Robert Mondavi Private Selection wine
As we are reminded every four years at the Olympics, there is a hierarchy when it comes to precious metals: Gold is always at the top of the podium, and silver is synonymous with second place. Consumers seemed to pick up on this distinction, calling the new design "more premium" and "classier." The new design's superiority over the old in overall preference (65% vs. 35%) wasn't just because it connoted higher quality, however: the aureate packaging also "stands out much more" and seemed to several consumers to complement the color of the bottle better.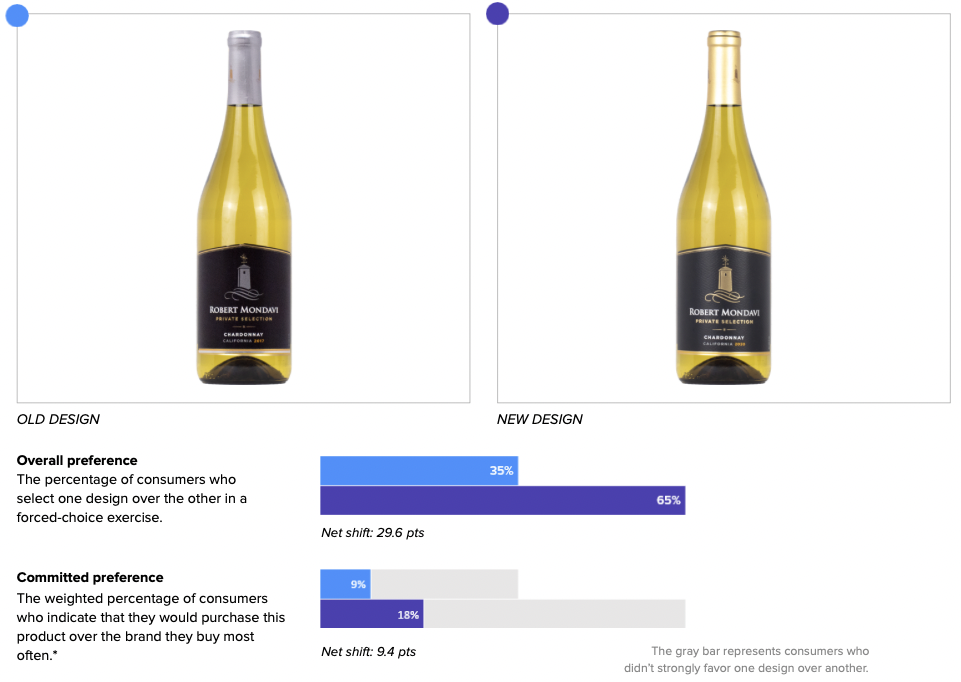 Drumstick ice cream treats
As with any food category, taste imagery plays a big role in the frozen treats—and Drumstick leaned into that with this redesign. The brand made the photos of its cones larger, shifted their orientation, and added a new element—the nuts falling off the cones—that implied an action most are familiar with: excitedly eating ice cream. This seems to have had the intended effect with consumers, who also appreciated the background print on the new design, overwhelmingly agreeing it was more "fun" than the old one. Overall, it added up to a big win for the new design over the old, 67% vs. 33%.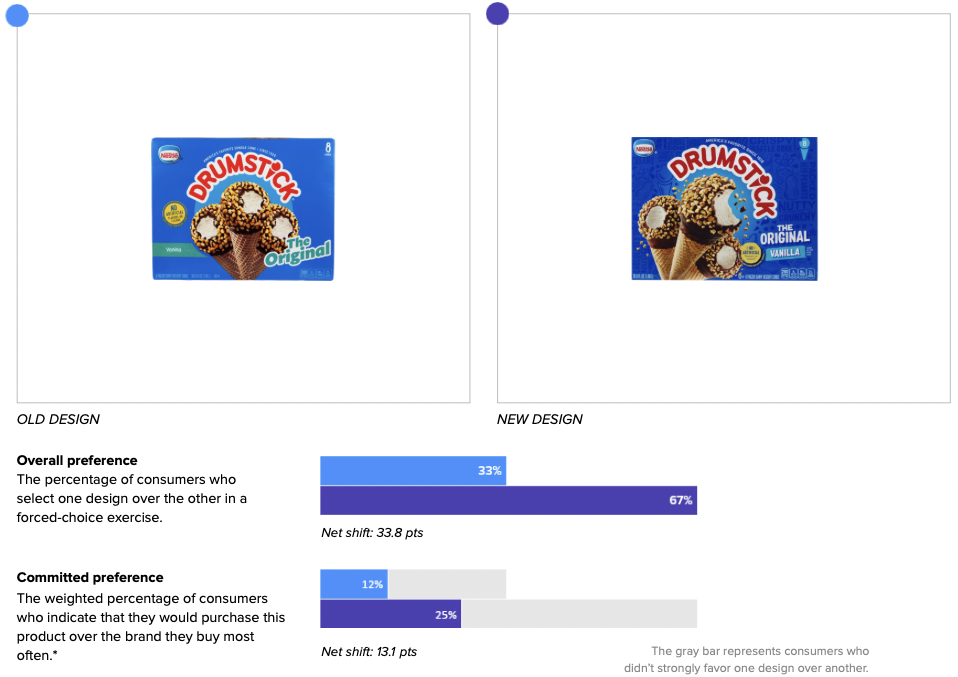 1800 tequila
With this redesign, the brand clearly was looking to communicate quality and exclusivity. Among other changes—including highlighting the tequila's Mexican provenance—1800 removed the "Silver" designation and added a cursive "Blanco" that seemed to resonate with consumers.
As part of our redesign analysis, Designalytics measures which words consumers are more likely to associate with one design over the other. The top three for the old design were "tequila," "silver," and "alcohol." For the new design? "Premium," "classy," and "quality."
It's not surprising, then, that consumers preferred the new design by such a wide margin, 73% vs. 27%.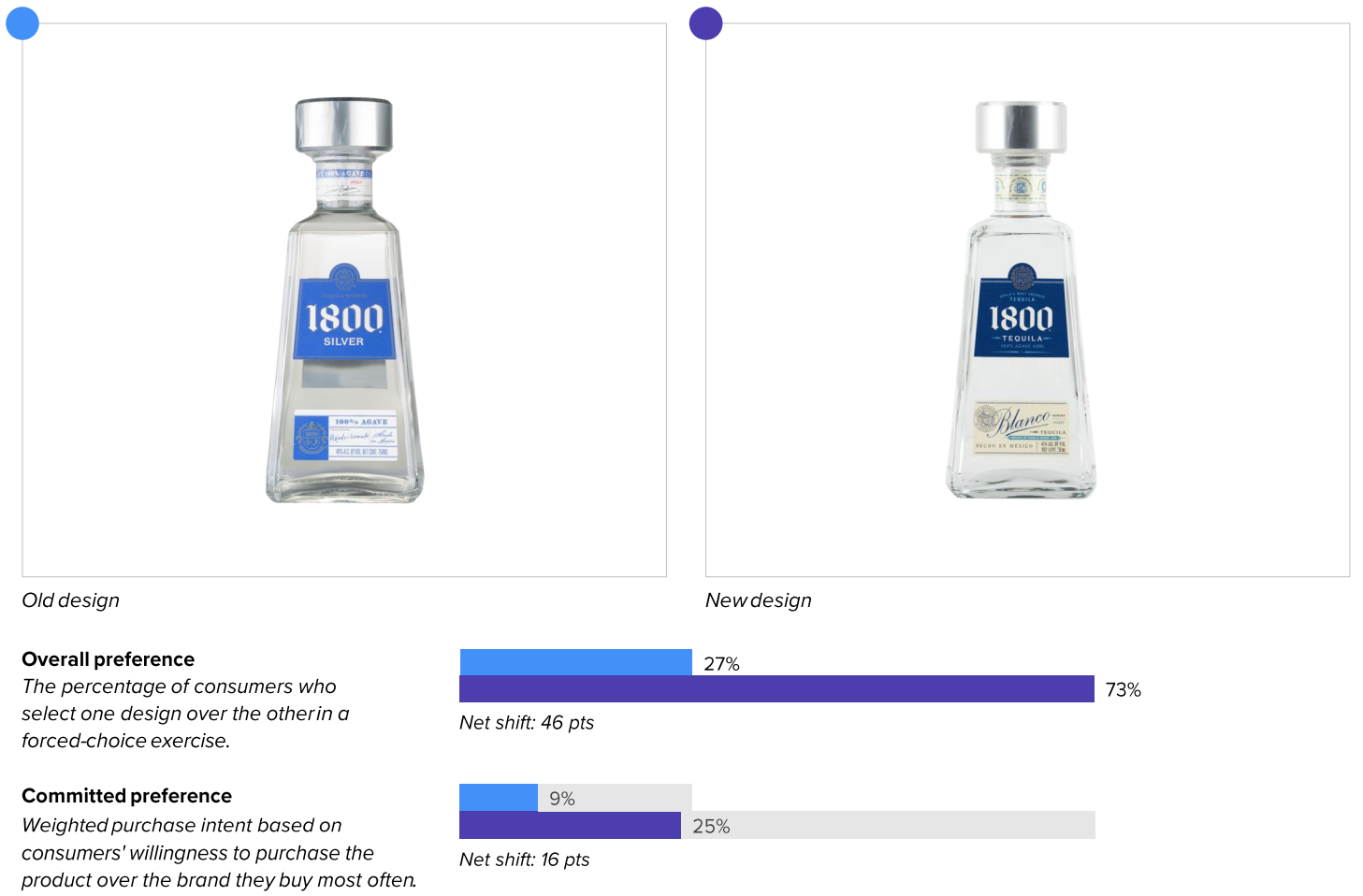 Cetaphil facial moisturizer
All personal care brands make claims about the effectiveness of their products, but it never hurts to have corroboration from medical professionals. Cetaphil's simple "#1 dermatologist recommended" claim—placed in a prominent spot at the top of the new design—was the only clear thing that separated it from the old. It made a big difference, though: 68% of consumers preferred the new design, compared to 32% for the old.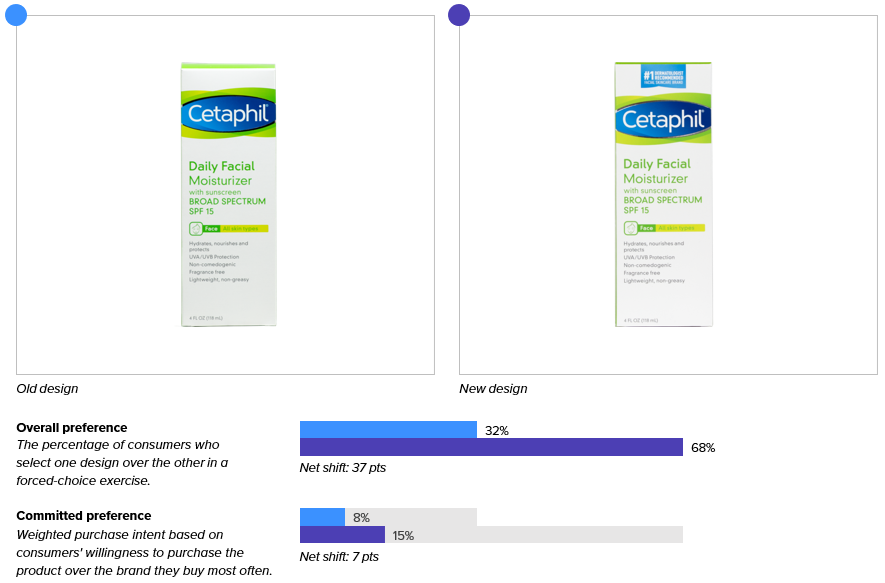 Premier Protein
Given that health concerns have been top of mind in the last couple of years, it's perhaps not surprising that Premier Protein's new claim "with nutrients for immune health support" was a hit with consumers. "Immune health support… is great to have these days," said one, while another stated "I would be more apt to buy for the immune boost." It wasn't all about health, though, as the new design dropped the gold "taste" badge, added an eye-grabbing blue banner, and featured an appetizing scoop of ice cream rather than just a chocolate splash. It's clear these changes had an impact, as consumers preferred the new design 77% to 23%.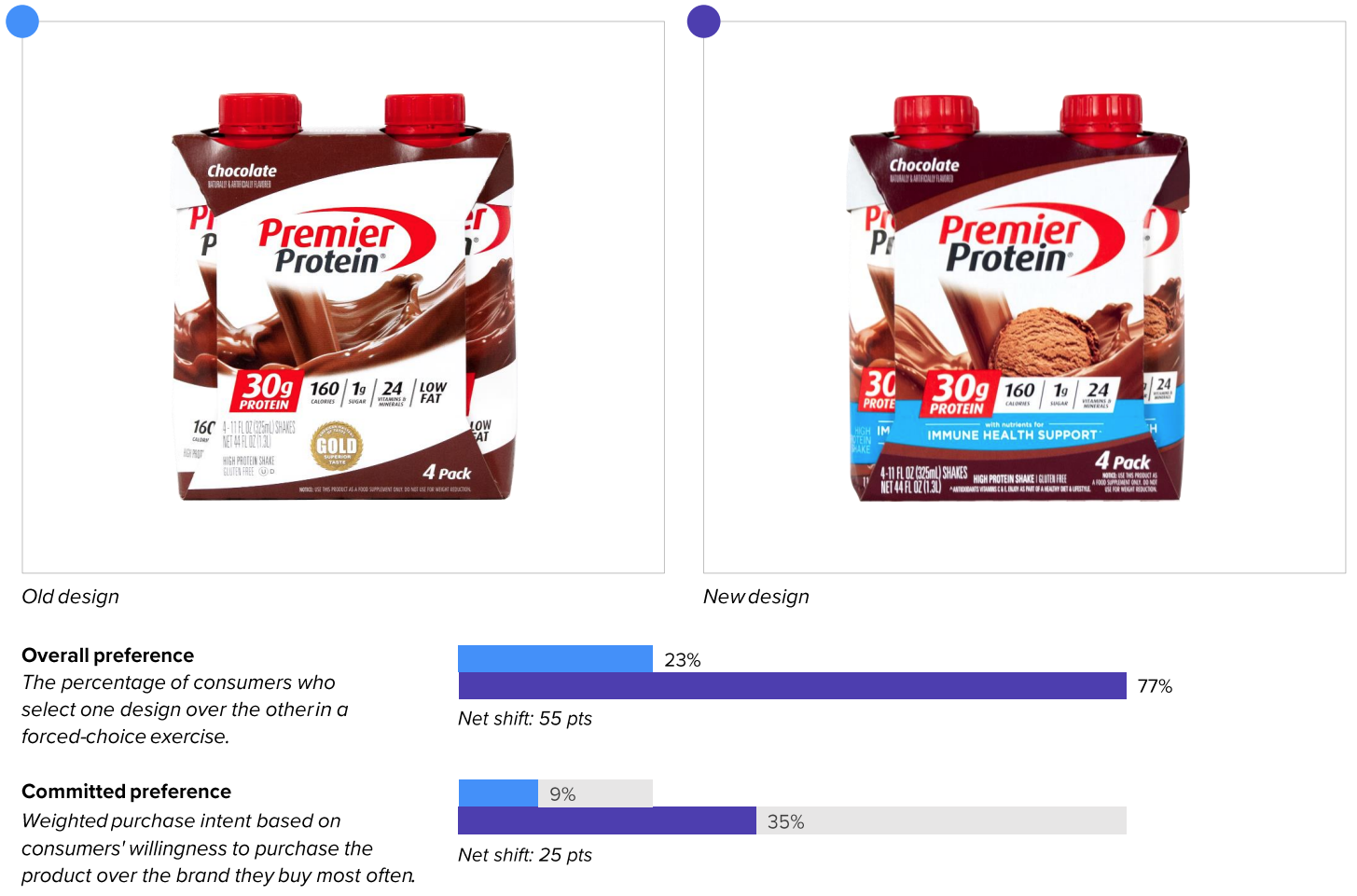 Persil
There were a few minor cosmetic changes in Persil's redesign, such as removing the silver circle around the logo and changing from a rounded label to one with squared edges. The crux of this redesign, though, was about driving home the product's efficacy.
The brand made the "Deep Clean" claim bigger and bolder. The addition of "visible and invisible dirt" below that, as well as the "hygienic clean" call-out on the cap, may have been an acknowledgement of consumer's desire, in the Covid era, to be more diligent than ever about disinfection and cleanliness. These small tweaks gave the new design significant traction, as consumers preferred it by a 65-point margin (82% vs. 18%).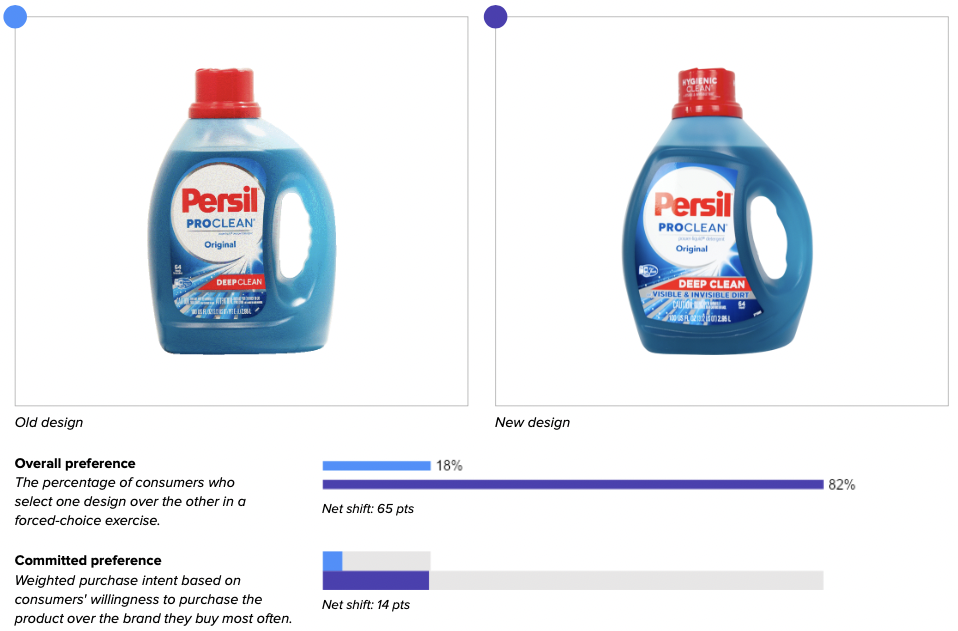 Garden of Eatin' Blue Chips
Garden of Eatin' already featured imagery that showcased the chips' taste appeal—the close-up photos of the product clearly displayed the texture, while the blue corn cob and the dusting of salt really drove home the flavors consumers could expect. Having shown them how scrumptious these blue chips were, the brand decided to tell them, too. The simple addition of a bold, yellow banner stating "Now even tastier" was enough to boost overall preference by almost 30 points from the old to the new designs (64% vs. 36%).