Brand:
Silk

Category:
coffee creamer (refrigerated)
Parent brand:
Danone North America

Agency:
In-house design team
Welcome to our Redesign of the Month series—where we spotlight one deserving brand harnessing the power of design to make an impact, tell a story, and outshine its previous packaging. Hundreds of current category consumers evaluate the old and new designs across a wide range of performance areas, including purchase preference, communication, mental availability, and design element resonance. Notably, Designalytics' testing outcomes align with actual sales performance more than 90% of the time.
Congratulations to this month's redesign winner: Silk Almond Creamer.
Background
In recent years, the level of competition in the coffee creamer category has become just plain nutty—largely driven by the proliferation of dairy-free options, such as almond, coconut, soy, oat, and cashew milk creamers. In fact, year-over-year sales for dairy-free coffee creamers increased by 32% in 2020, according to Nielsen.1 As one of the first major players to enter the category, Silk is now defending its market share against an onslaught of challenger brands and new product launches from other heavyweight contenders. A few months ago, the brand launched a dramatic redesign to do just that, which has been well-received by coffee-loving consumers.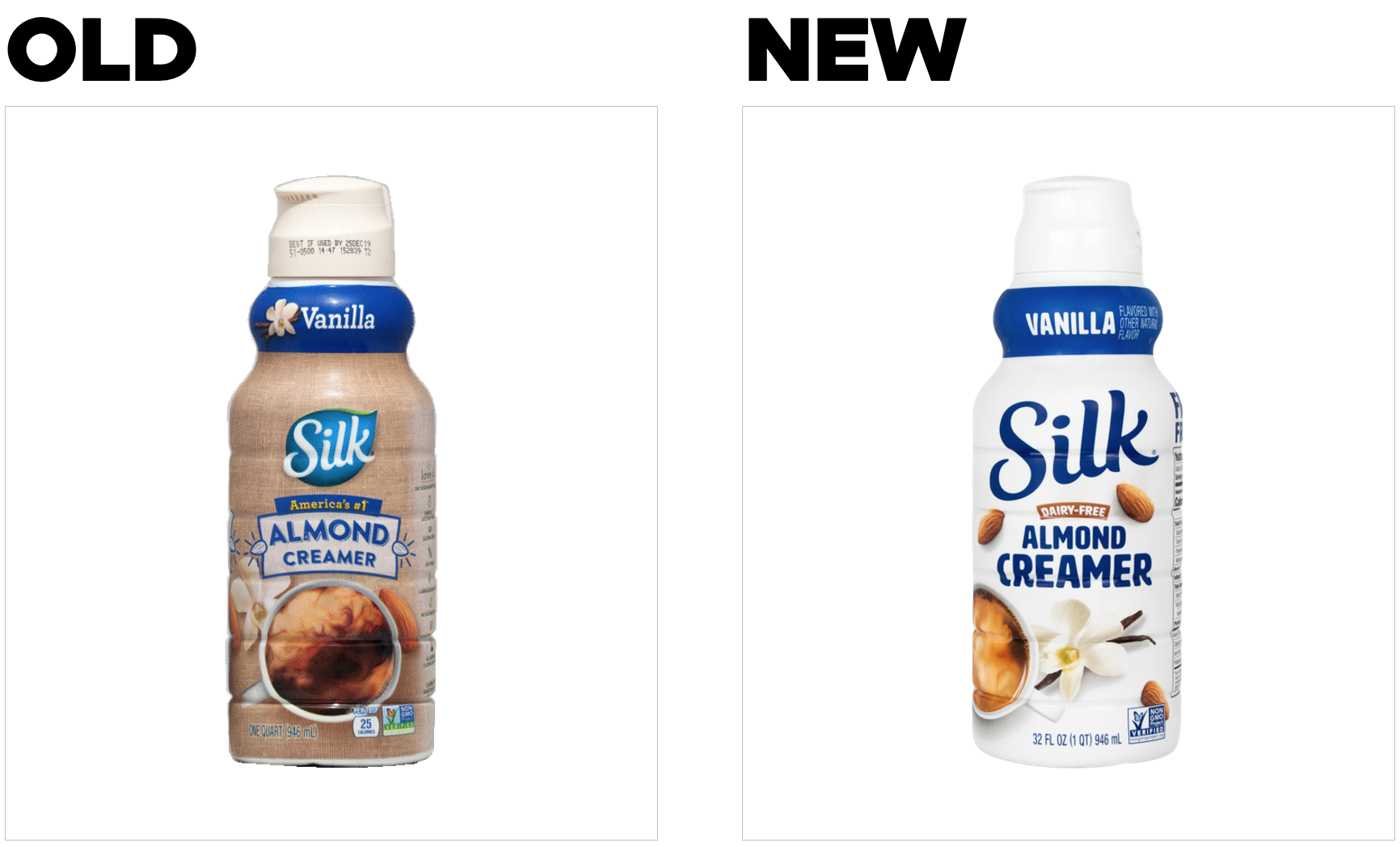 Key creative changes
When a brand embarks on a redesign initiative, one of the first steps is to identify which current visual elements are distinctive and worth preserving. In the case of Silk, the only asset that brand-familiar consumers identified as highly distinctive was its wordmark—not the brown bottle color, the product and flavor imagery, or even the blue coloring of the shape incorporated into the logo. Given that context, it may not be so surprising that the brand retired its brown bottle in favor of a vividly white one, and freed its wordmark from the constraining lockup—a change that allowed the logo to be scaled-up considerably.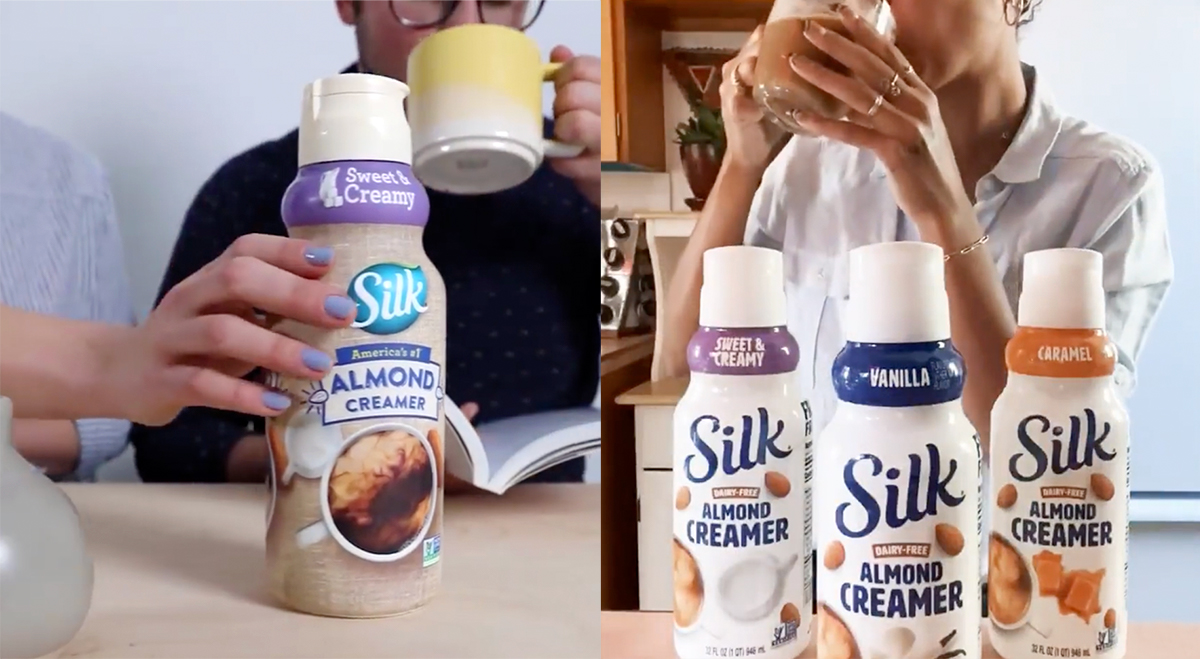 The brand also reconsidered its product imagery, putting more emphasis on the visual flavor cue (a vanilla bean flower). In the new design, this element is nearly as large as the coffee cup, and centered on the label—whereas the old design relegates a much smaller version to the side of the cup.
Other changes include the addition of a "dairy-free" claim, and adopting a chunkier, friendlier typeface instead of the more geometric one used on the previous packaging.
The bottom line
Silk Almond Creamer's new design is a smooth operator, claiming a win on purchase preference from two-thirds of category buyers.2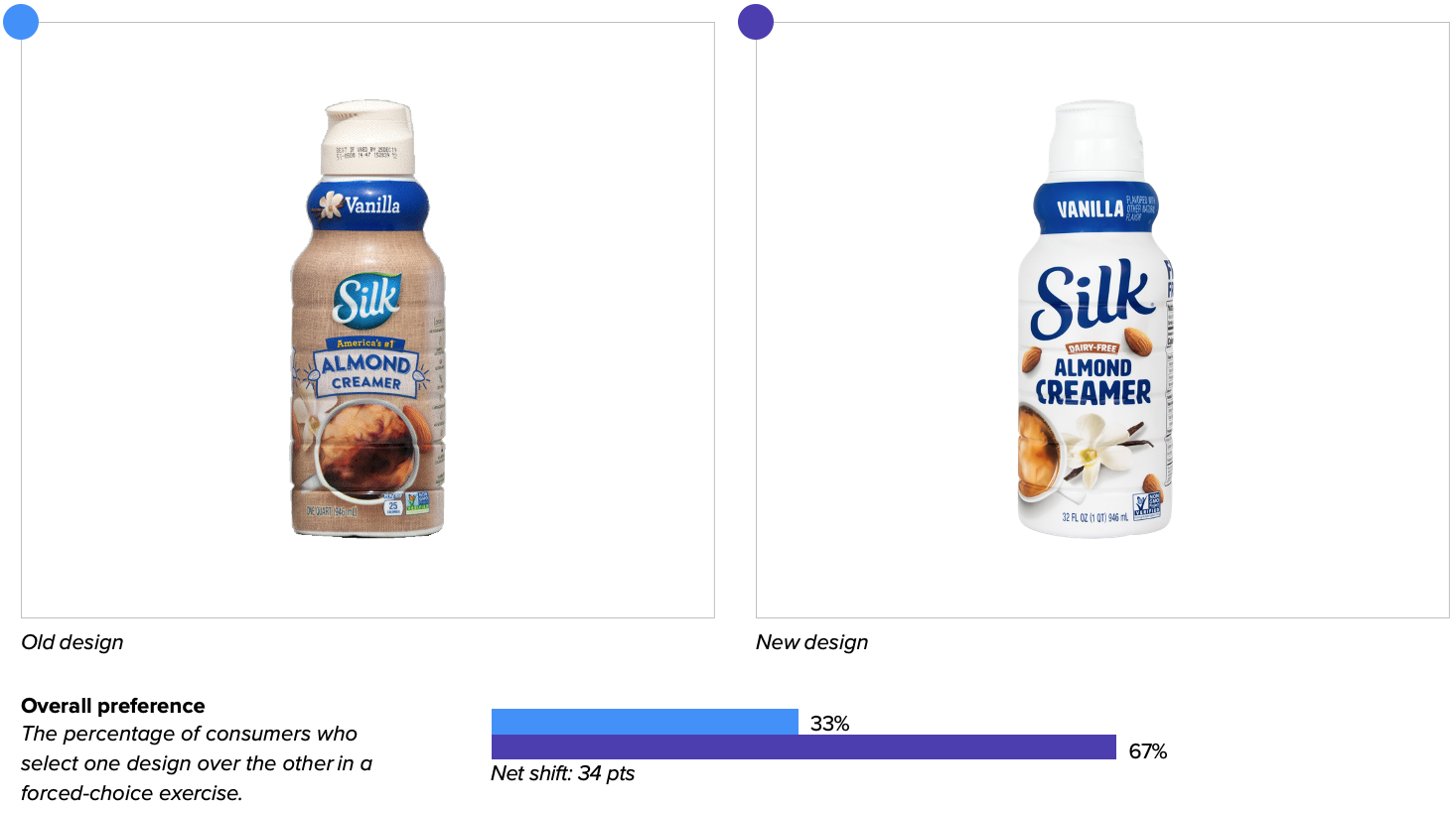 Redesign wins and opportunities
While many designers are tired of hearing "make the logo bigger," it's difficult to deny that there are some benefits. For example, consumers are able to locate the new Silk Almond Creamer design within a competitive set faster than the old one (2.5 versus 3.4 seconds, respectively)—though both outperform the category average. Additionally, consumers can recognize the new design accurately from further away: 16 feet for the new design, compared to 11 feet for the old design. (Distance recognition is a measure of mental availability—the propensity for a particular brand to be noticed or thought about in buying situations.)
The new design elicits more positive and specific associations from consumers, including modest improvement on key product descriptors (vanilla, dairy-free) and those related to taste appeal and health benefits (fresh, tasty, smooth, creamy, delicious, healthy). By comparison, the old design evokes more generic associations such as "coffee" and "milk." In a forced-choice exercise, consumers were more likely to say that the new design "tastes great" and is "natural."
Consumers appreciated the greater emphasis on the vanilla imagery for its role in signaling the flavor variety more effectively; as one category buyer explained, "Though the word 'vanilla' is on the packaging, I actually see the vanilla bean/flower before I see the word 'vanilla.' I know right away that vanilla is in it." Others noted that the updated vanilla imagery added an air of freshness and beauty to the scene.
Consumers also cited the "rich" and "creamy" appearance of the product itself as pictured in the new design—an outcome that may be partially driven by the lighter color of the coffee inside the cup. This change is so subtle that it's easy to overlook when scanning the old and new designs side-by-side, but it suggests that even small updates can have a tangible impact on consumer impressions. Detail-oriented consumers commented on the product's level of creaminess, how easily it seems to blend, and that the coffee is "lightened just right."
Overall, the new coffee and vanilla imagery yielded higher—and less polarizing—sentiment from consumers. When asked to evaluate specific elements of the designs, 25% of consumers explicitly "liked" the new photography, while just 2% "disliked" it. By comparison, only 16% of consumers explicitly "liked" the old photography, while 7% "disliked" it. Silk represents another in a long line of established brands (Dove, MorningStar Farms) who have successfully increased the taste or sensory appeal of their products through thoughtfully-considered and meticulously-executed updates to product or ingredient imagery, both in terms of aesthetics and scale on the package.
Wins
Simplifying design elements to remove unnecessary frills that aren't meaningful to consumers, such as freeing the wordmark from its lockup and removing the bounding shape around "Almond Creamer." This has the added benefit of creating space to enlarge important elements, like the brand name.
Enhancing communication of all key purchase-driving attributes in the category (e.g., tastes great, goes well with any coffee, good consistency, satisfies a sweet craving, natural, good value, etc.).
Eliciting more positive and diverse associations from consumers, driven by improved product/flavor imagery.
Improving findability and mental availability performance—likely benefits of enlarging the logo.
Opportunities
Establishing more distinctive assets beyond the brand's wordmark.
Despite improving communication on all purchase-driving attributes measured, gains on some top-ranked attributes were fairly modest (takes my coffee up a notch, high quality, tastes great, goes well with any coffee); there may be an opportunity to make a bigger splash. (Communication performance is

highly correlated with sales performance

.)
Consumer highlights
"Showing the ingredients makes the product seem more natural, and it's easy to identify the variety."
"I love the image of the creamer in the coffee—it makes me think of how rich it'll taste."
About our data
Our goal behind highlighting impactful redesigns is to help brands understand market reactions to design changes and make intentional design decisions. We create a full report of these insightful case studies for every brand redesign in our cross-category database. These value-add tools are created automatically for our clients who subscribe to syndicated category data. For more information on this redesign report or others, contact us.
1Nielsen, xAOC, latest 52 weeks ending 2/20/21
2In addition to measuring overall purchase preference, Designalytics also evaluates "committed preference"—consumers' willingness to purchase the brand in question over the brand they currently purchase most often. This measure has proven to be highly predictive of in-market sales outcomes (95%+ accuracy), with increases in 4% or more (from the old design to the new) signifying that the new design will likely drive sales gains. In the case of Silk Almond creamer, committed preference for the old design was 9%, and 19% for the new design. Since this difference of 10% far exceeds the 4% threshold observed by Designalytics for sales predictability, Silk is very likely to see an uptick in sales over the next few months.