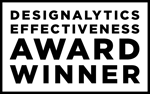 When Dark Horse appeared on store shelves in 2015, there was no question that the brand had been aptly named; it took the wine industry by storm, generating tens of millions of dollars in sales during its first year—and just kept on growing. While some brands who enjoy instant popularity become complacent in the years following, losing share as new contenders swoop in, Dark Horse has remained vigilant.
"Many of our competitors were starting to adopt similar, darker packaging in the wake of our success, and we were getting a little lost on the shelf. We also saw an opportunity to communicate more clearly what each varietal was going to taste like, and to reinforce that this is high-quality, great-tasting wine at a reasonable price," said Anna Bell, vice president of marketing at E. & J. Gallo Winery.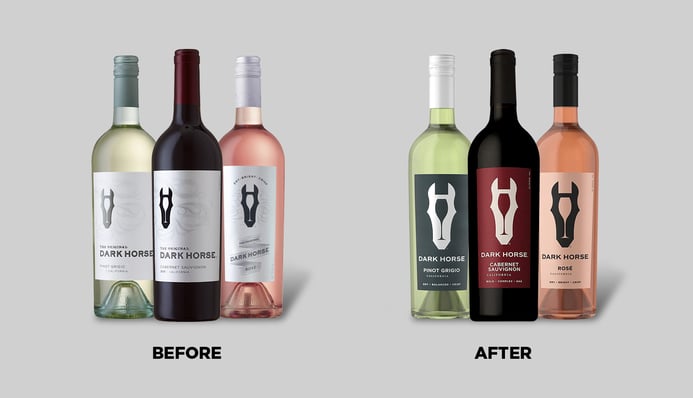 As a design-forward company, E. & J. Gallo Winery intuitively understood that, while packaging changes can be risky, they can also be incredibly rewarding. In other words, Dark Horse was certainly performing well already, but it could do even better.
In 2018, E. & J. Gallo Winery engaged forceMAJEURE, a design agency based in New York City, to lead its redesign efforts. "The brand was in a positive place. This project was more about trends and improvements," said Pierre Delebois, executive creative director at forceMAJEURE. "From an aesthetic perspective, the brand conveyed a lot of darkness and intensity, but that's not what Dark Horse means—the term refers to an unlikely or unexpected winner. It's actually a very positive thing, so there was a dichotomy between the name of the brand and the image it was projecting at times," he explained.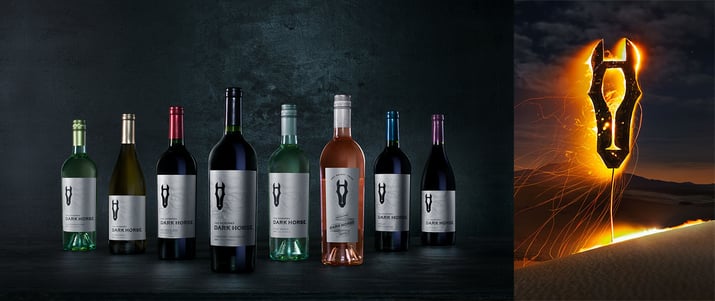 The agency conducted a deep-dive exploration of Dark Horse and its competitors, observing that many other wines in the commercial premium space had begun to adopt moody, edgier personas—all the more reason for the Dark Horse brand to embrace its more optimistic moniker.
Approachability is a key tenet of the Dark Horse brand, which targets newer wine drinkers who are looking for something adventurous and sophisticated, but also welcoming. Part of our goal as an organization is to continuously democratize wine—to bring new consumers into the category. We don't target any specific consumer segment with Dark Horse, but we're always seeking to invite more people in," said Bell.
Looking beyond the brand's emotional aura, the team understood that simpler line navigation and clearer communication about the product's taste could enhance approachability. The existing label design didn't offer any flavor cues beside the varietal name, and varieties weren't clearly differentiated within the brand family. With the exception of seal color, cabernet sauvignon looked fairly indistinguishable from merlot at first blush, and a consumer seeking pinot grigio could easily have reached for sauvignon blanc instead.
"Newer drinkers think, 'I'm not a connoisseur—I want something a bit premium, the best quality that I can get for $10.' Helping them find that is similar to what Apple did with computers years ago, using good design to make the technology more accessible to average consumers. In the end, Dark Horse showed that wine can be fun and playful and colorful, really simple to navigate, and not overly intellectual," said Delebois.
With any redesign, it's essential to understand the strengths and weaknesses of the current packaging at the outset. For Dark Horse, some of these insights were blatantly obvious—the bold, distinctive horse iconography had to stay, for example.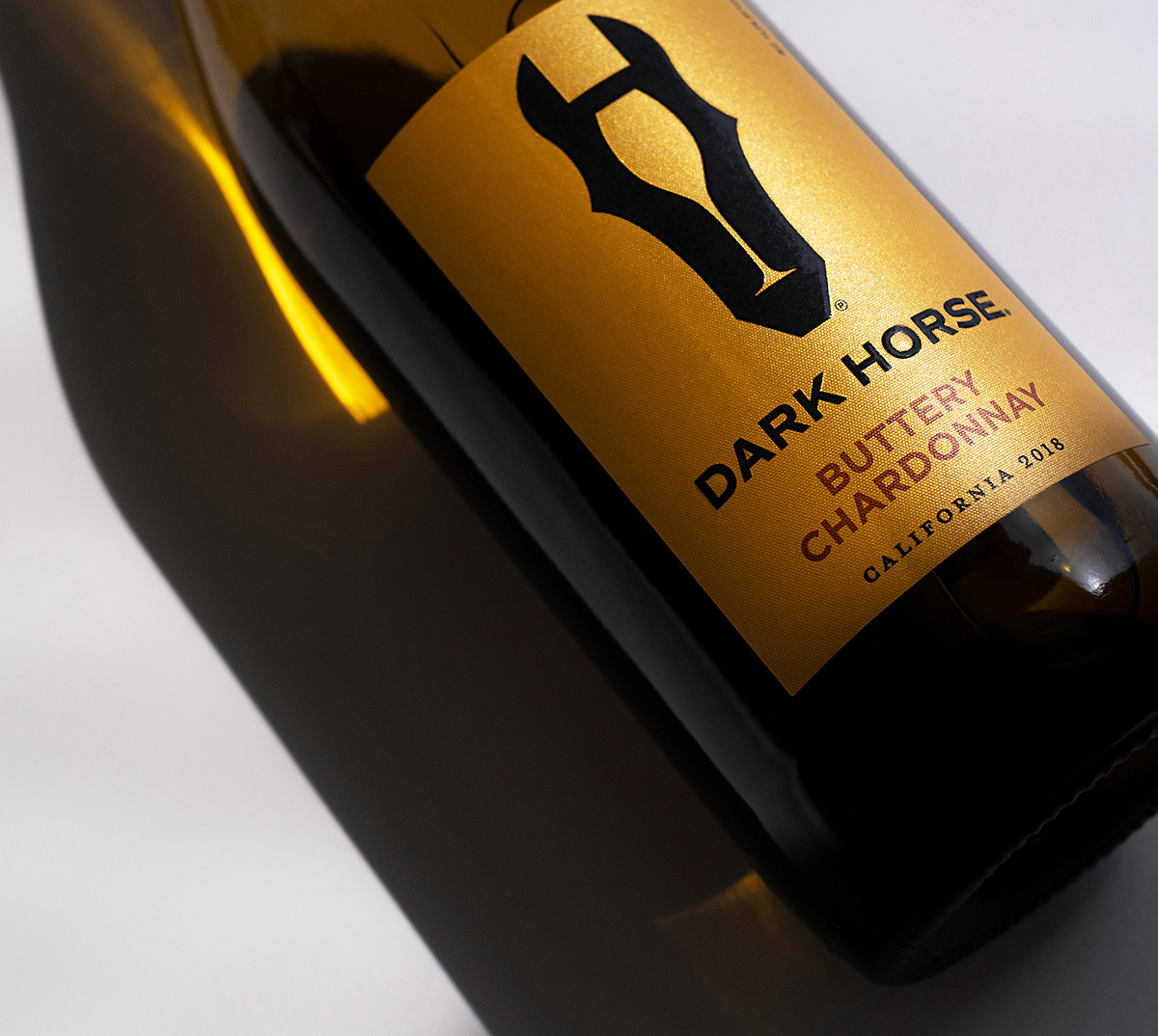 "We knew the horse icon was widely recognized and beloved by consumers. Personally, I love the wine glass that's created by the negative space within. Some people see it right away, and some people need to have it pointed out. It's extraordinarily interesting and clever design," said Bell.
Some aspects of the design were less straightforward. "We questioned whether we needed to preface 'Dark Horse' with 'The Original.' Dark Horse is a confident brand and, after some discussion, it became clear we didn't need that qualifier," said Delebois.
The agency removed or simplified other elements to streamline the design. Reasoning that the smoky graphic surrounding the horse icon wasn't unique to the brand or meaningful to consumers, they eliminated it. The logo itself, which had featured outlined text, adopted a solid fill—emphasizing the brand name and removing unnecessary complexity.
Ultimately, forceMAJEURE presented five different design directions to the Dark Horse team, ranging from close-in to more experimental. After three rounds of refinement, informed by consumer research, they identified a winning label design. "When we've formed our idea into something more tangible, we conduct tests with consumers to confirm our intuition. While the ideation stage is creative and collaborative, the research is very important for ensuring those instincts are correct," explained Delebois.
When asked what made this particular redesign so successful, Bell also emphasized the importance of soliciting objective feedback throughout the design process: "Check in with your target audience, check in with your partners. Are you really communicating what you think you are? Because we all know, as marketers, we can get too close to our own brand, and it's incredibly helpful to listen to what someone on the outside has to say about it."
The chosen design route heavily emphasized the horse iconography, with impressive results. The distance at which consumers could recognize the brand—a measure of mental availability—more than doubled.
The chosen design route heavily emphasized the horse iconography, with impressive results. The distance at which consumers could recognize the brand—a measure of mental availability—more than doubled; on average, wine buyers accurately identified the old design from 6.7 feet away and the new design from 15.2 feet away, according to Designalytics' analysis. Moreover, when consumers familiar with Dark Horse were surveyed about the new design, 90% identified the horse icon as unique to the brand. (For comparison's sake, 64% of brand-familiar consumers identified Heinken's red star as a distinctive brand asset, while 74% said the same about Starbucks' green mermaid.)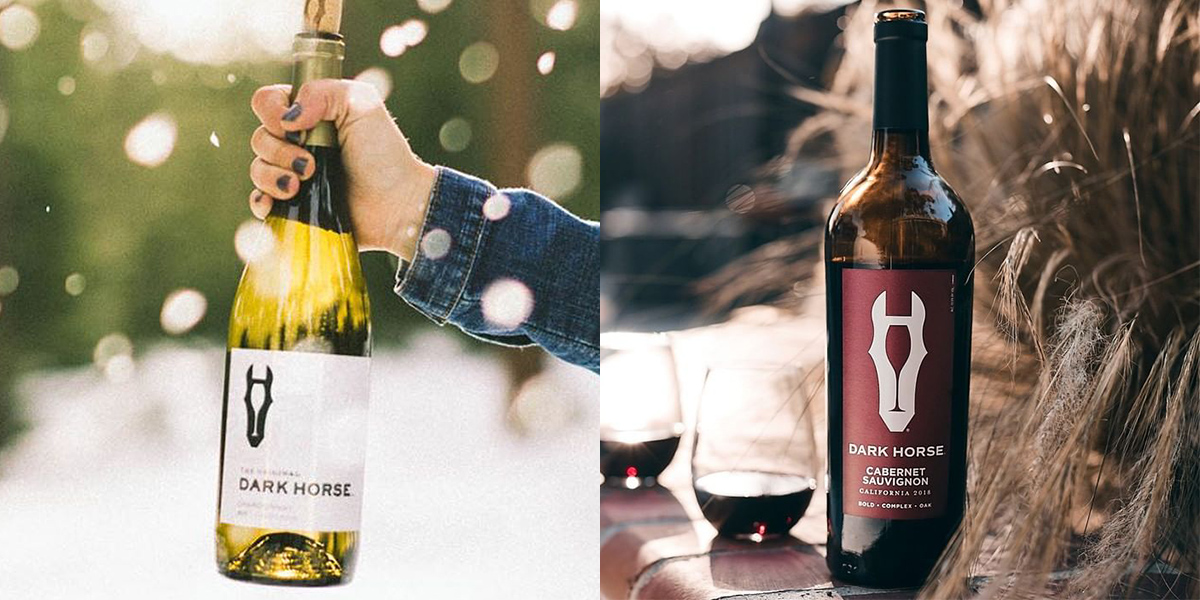 One of the most striking aspects of the new design system is the bold use of color, with a specific background color assigned to each varietal. "Buttery Chardonnay" appears smooth and rich in a unique yellow-orange, while "Big Red Blend" lives up to its name in a bright, unapologetic red. "We favored color over complex decoration. Color is timeless; if you see this design in 10 years, I doubt it'll feel outdated. It's simple and iconic," said Delebois. The confident color blocks render the product line more navigable, evoke a sense of modernity, and provide more flexibility when creating derivative marketing assets—an increasingly important feature in today's Instagrammable world.
"I watch designers work and I keep telling them, 'Guys, zoom out, zoom out, zoom out. You keep focusing on that tiny detail, and that was great when we were designing billboards and printing large assets, but so much is digital now. If things aren't clear when you zoom out, then forget about it—it's useless,'" said Laurent Hainaut, president and CEO at forceMAJEURE.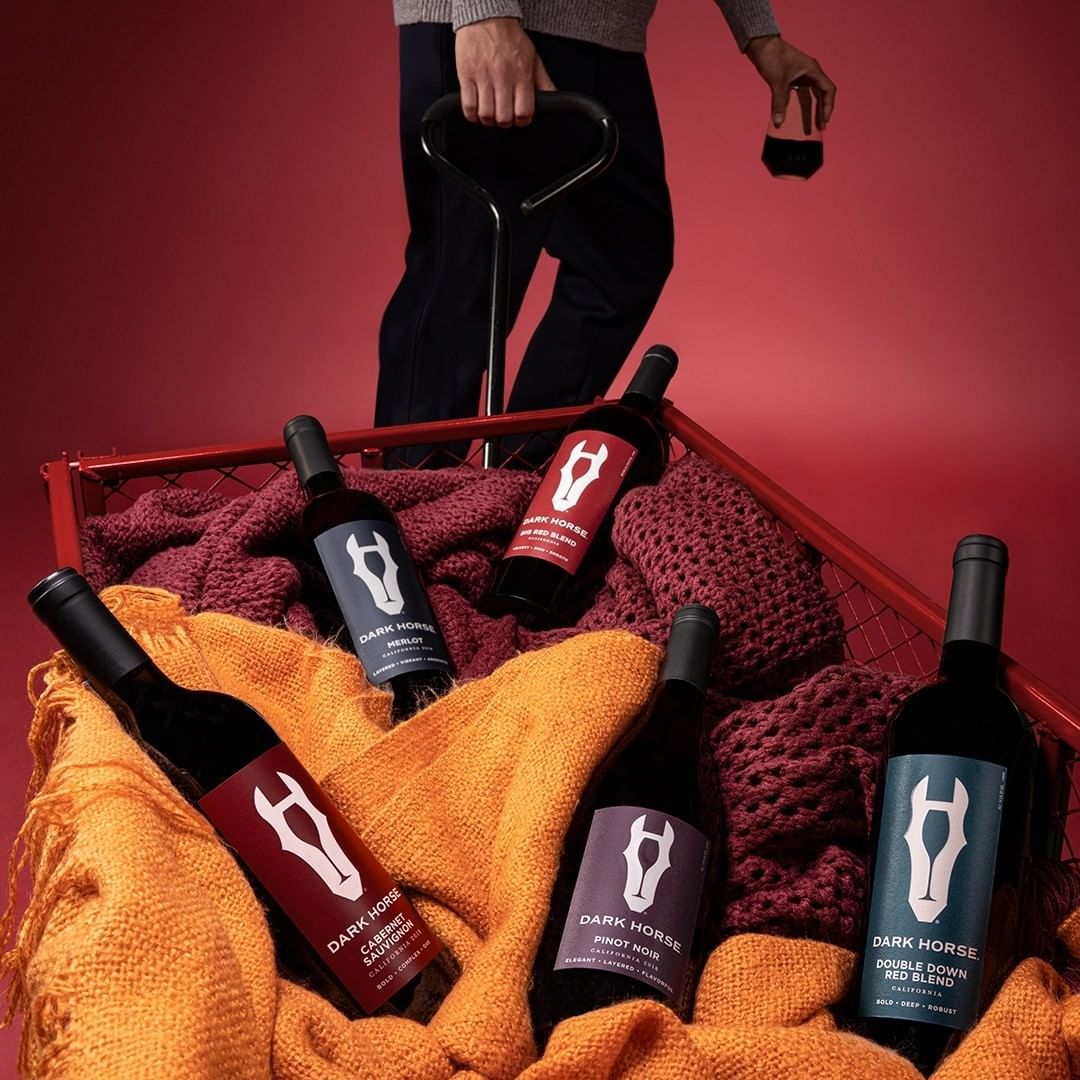 In developing the color system, the agency not only considered taste perceptions, but also the competitive context in which the labels would appear. Notably, the team decided to break the accepted color convention for rosé.
"Rosé is always a white or silver label and cap paired with a light-colored typeface. We went with a beautiful, rich, coppery-pink label with the black icon and a black cap," said Delebois. The juxtaposition of pink and black stands out amidst other rosé bottles, and adds some unexpected flair to the Dark Horse line.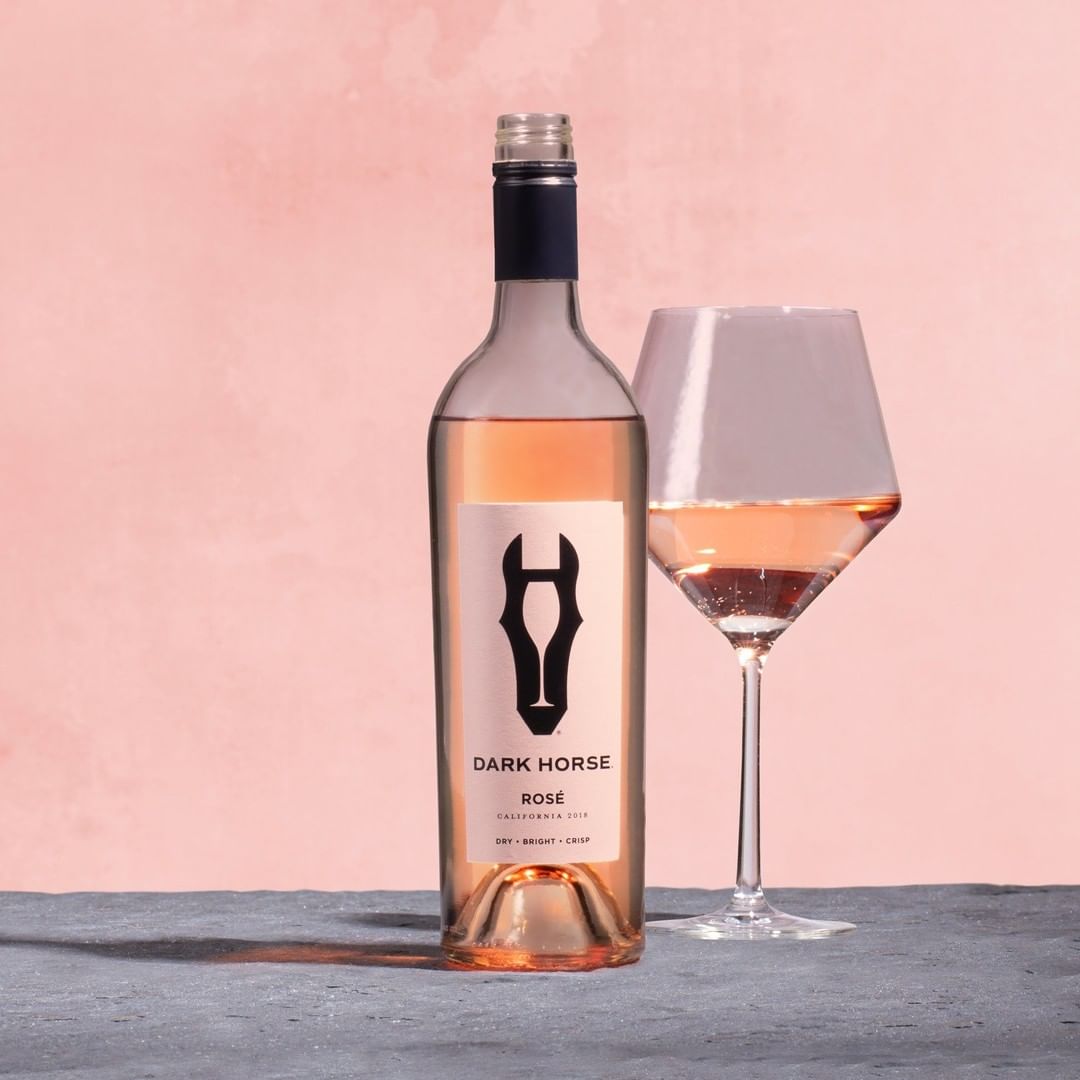 "That's an example of why benchmarking isn't always the best practice for design. You always need to understand the market, but you also need to go beyond what's standard or expected. That's a difficult concept for some brands. They should be asking themselves, 'When is it appropriate to disrupt the category codes and be a leader?'" remarked Hainaut.
"Brands should be asking themselves, 'When is it appropriate to disrupt the category codes and be a leader?"
In addition to enhanced "pop" and easier line navigation, the new design featured significant improvements in communication. The agency rendered the varietal names more prominent, and added concise taste descriptors below, such as "rich, toasted, oak" and "refreshing, crisp, citrus." "These help to remove the pretentiousness of the wine world. If you don't know anything about wine, you can still understand something about what you'll experience," explained Delebois.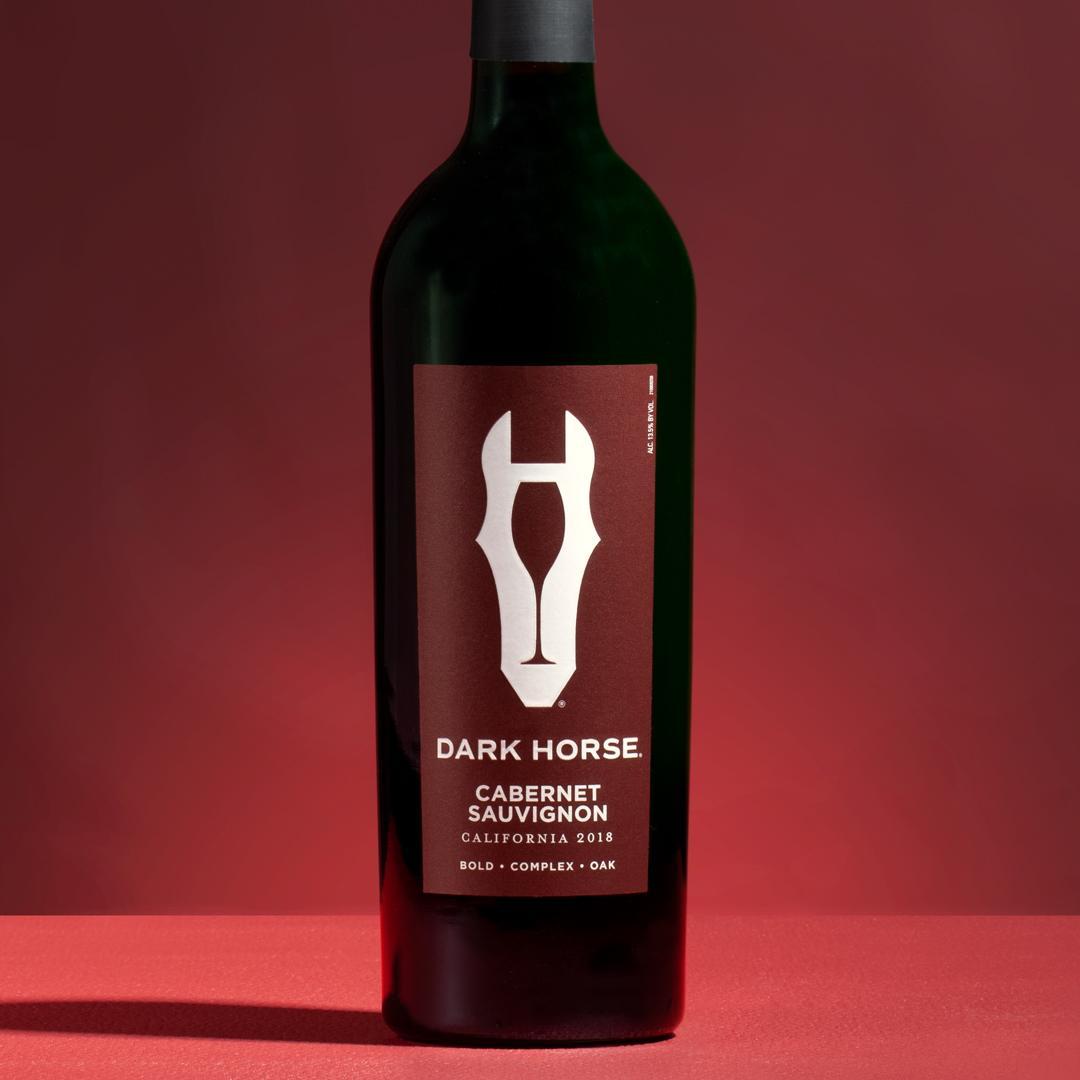 When consumers were asked which design best conveyed top purchase-driving attributes in the wine category, the revamped label demonstrated massive gains over its predecessor. It better communicated crucial attributes such as "full-flavored," "tastes great," "high quality," and "good value."
In May 2020, Dark Horse launched its new design to market to the delight of consumers and retailers alike. During the six months following the redesign, the brand's sales grew by 15% relative to the same period during the previous year—significantly outpacing the average for similarly-priced wines.1 Designalytics' consumer evaluation corroborates these results; twice as many wine buyers indicated that they would purchase the new design over its predecessor.
"At the end of 2020, we conducted research on attributes that drive brand perception, awareness, and other key performance indicators. We found that the new packaging had become our strongest brand asset and was really driving important associations with our brand. Moreover, we had the highest packaging perceptions amongst our competitive set," said Bell.
During the six months following the redesign, the brand's sales grew by 15% relative to the same period during the previous year—significantly outpacing the average for similarly-priced wines.
"It can be difficult to attribute growth directly to new packaging but, from all of my experience working in this industry, the best branding initiatives are the ones that effectively excite our three contingencies: our consumers, our retail partners, and our sales team. This project really fired on all cylinders, and I would say that the design work had an incredible impact on that," she reflected.
This initiative provides a powerful proof point for what all creatives and marketers instinctively know, but struggle to quantify: when it comes to brand growth, design is a true work-horse. We'll toast to that.
Download the report with interviews from all the Designalytics Effectiveness Award winners.
1 Nielsen xAOC + liquor, latest 26 weeks ending 10/24/20 vs. the same period in 2019.