According to a survey by Dotcom Distribution, 40% of consumers say they will post a photo of a package design they like on social media.
Let's consider that for a moment. Brands spend considerable time, effort, and resources getting consumers to hopefully notice, consider, and purchase their product. A good package design is essential for this.
As a bonus, though, a great design can inspire a considerable percentage of consumers to get others to notice your design.
In other words, you've not only done your job as a brand, you've convinced customers to help you do your job. This is one of the reasons so many forward-thinking consumer-packaged-goods (CPG) companies have adopted a "social-first" branding approach. But that's just the beginning: more and more consumers are shopping (and seeing ads) online. Smart brands are always considering how their package design will perform in digital and physical contexts.
As the announcement of our 2022 Designalytics Effectiveness Award winners approaches (May 23!), we were reminded how many winning redesigns had the digital environment in mind during their design process. It makes sense, of course: Consumer engagement goes far beyond the shelf these days—brands had better consider how their package looks on e-commerce sites and online ads, as well as being ready for an Instagram close-up.
Here is how some past winners maximized their digital connection with consumers on their way to increased sales.

Dark Horse
Already a darling of the design-minded wine space, Dark Horse chose a brand-boosting new design route (created by their agency, forceMAJEURE) that heavily emphasized the horse iconography and created bold and specific background colors for each varietal. "Buttery Chardonnay," for example, appeared smooth and rich in a unique yellow-orange, while "Big Red Blend" lived up to its name in a bright, unapologetic red.
In addition to making the line more navigable at the shelf, the confident color blocks evoked a sense of modernity and provided more flexibility when creating derivative marketing assets—an increasingly important feature in today's social-media-dominated world.
"I watch designers work and I keep telling them, 'Guys, zoom out, zoom out, zoom out," Laurent Hainaut, president and CEO at forceMAJEURE, said of the agency's approach. "You keep focusing on that tiny detail, and that was great when we were designing billboards and printing large assets, but so much is digital now. If things aren't clear when you zoom out, then forget about it—it's useless.'"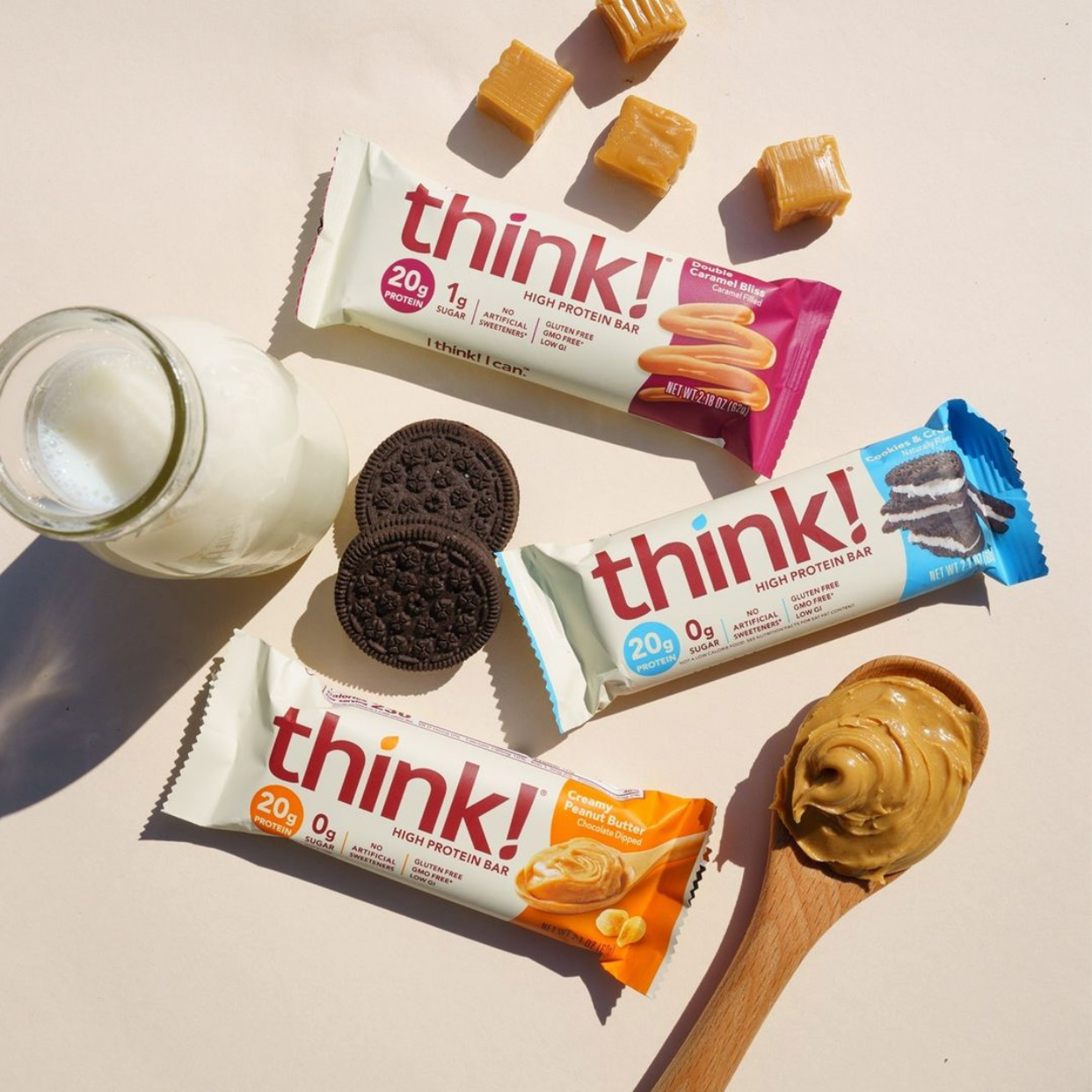 think!
It's a question so many consumer-packaged-goods (CPG) brands have considered: how to update your look to appeal to today's consumer? Many have tried the same strategy—a dramatic rebrand—but few have experienced the impressive success of think!.
Known for years as thinkThin, the brand tasked the agency DDW with revitalizing the protein bar's image. In addition to a name change that allowed them to appeal to a broader audience, the agency approached it with an eye for social media.
DDW kept the brand's signature beige coloring for think!'s core product line but added bold splashes of color to boost its visibility—and they specifically considered social media and digital advertising when developing the design.
"The modern shelf set includes Instagram, and we presented our initial designs in that context in addition to the traditional retail environment," said Ross Patrick, executive creative director at DDW. "Consumers might be seeing the product for the first time on Instagram, and they might be making their purchase decisions there. We needed to be a confident, vibrant, bold brand in that space."
Hill's Science Diet
Cuteness has unquestionably gone viral in the digital age, and Hill's Science Diet took notice.
Already acknowledged as the premier pet-food brand for nutrition, Hill's redesign amped up the adorableness by making our furry feline and canine friends the stars of their packaging. With the help of their agency, Beardwood&Co., and photographer Michael Faye, the brand drew out the notion of "distinctive pet character" through larger, more engaging photos of cats and dogs. The result was a more effective design that connected with pet parents (not to mention catching the eye of the average scrolling consumer).
Beardwood&Co. also deftly incorporated effective design assets from the previous package. The most powerful distinctive asset for the brand—its white bag—had been recessive in retail contexts, particularly on e-commerce websites.
Now, the white bag now served as the perfect canvas for this outsize cast of cuddly characters, transforming the old design's biggest weakness into its greatest strength. In addition to standing out in both physical and digital retail environments, the design was more likely to catch the eye of the average scrolling pet parent on social media.

MorningStar Farms
Plant-based meat is having a moment—which naturally means there are more competitors than ever in this space. As such, consumers have come to expect better flavor in addition to the health and ecological benefits that come with this dietary choice.
In order to compete in an increasingly flavor-focused category, MorningStar Farms upgraded its taste appeal with its most recent redesign, led by Design B&B. The brand understood that tantalizing food photography would not only help at the shelf, but in the digital space where many consumers might decide to try their product.
"We wanted to acknowledge the advent of Instagram and its impact on food photography, and what that means for on-pack imagery. For this category, the number one anxiety point for consumers is, 'What's this going to taste like?' Our highest priority is to drive taste appeal. MorningStar Farms has the highest rate of repeat in the category—so driving that first purchase is key," said Heidi Ray, marketing director at Kellogg's.
The one common thread that runs through virtually every marketing effort is your package design—in the parlance of show business, it's your star. As social media and e-commerce become even more important for CPG brands, that star needs to shine brightly in the digital world.