When it comes to design, everyone in a CPG organization seems to have an opinion.
Which makes sense—after all, this is the one marketing channel seen by 100 percent of your customers, so the whole team has a vested interest in its success. Too often, though, the opinions of a few stakeholders or a handful of consumers in a focus group lead brands down the wrong design path.
That's one reason why Designalytics Edge is such a game-changer for brands trying to maximize brand growth. It completely negates the need to rely on opinion by giving you mountains of design data at your fingertips.
Try Designalytics Edge for FREE →
Consider this hypothetical scenario: Multiple stakeholders in your organization have hunches about which design changes are right for your brand—but not all hunches are created equal. In fact, Nielsen reported that 53% of CPG professionals surveyed believe a top driver of design decisions is the "senior executive favorite."
Wouldn't it be better to trade those hunches and favorites for questions, like:
Do category buyers' priorities align with the proposed hierarchy of communication?
Do these consumers care about the claims that marketing wants to elevate?
What kind of product imagery is your target market most likely to respond to?
Is that popular design trend worth pursuing?
A Designalytics Edge membership helps you answer these questions and so many more. It replaces subjective guesswork with data-centered evidence, showing which CPG designs are successful, which aren't, and why. This information is invaluable, especially for informing your strategy and to aid in early creative development.
Here's another situation that is common across food and beverage brands: There's a belief that a new approach to taste imagery on packaging will reap major rewards. But… will it? Generally, it depends on the execution.
Take Lunchables, for example: The brand's recent redesign opted to replace a transparent window showing the product with larger branding and an expanded, appetizing image of the food (with the playful addition of tiny people). It turns out, though, that consumers had an emotional connection to the previous version.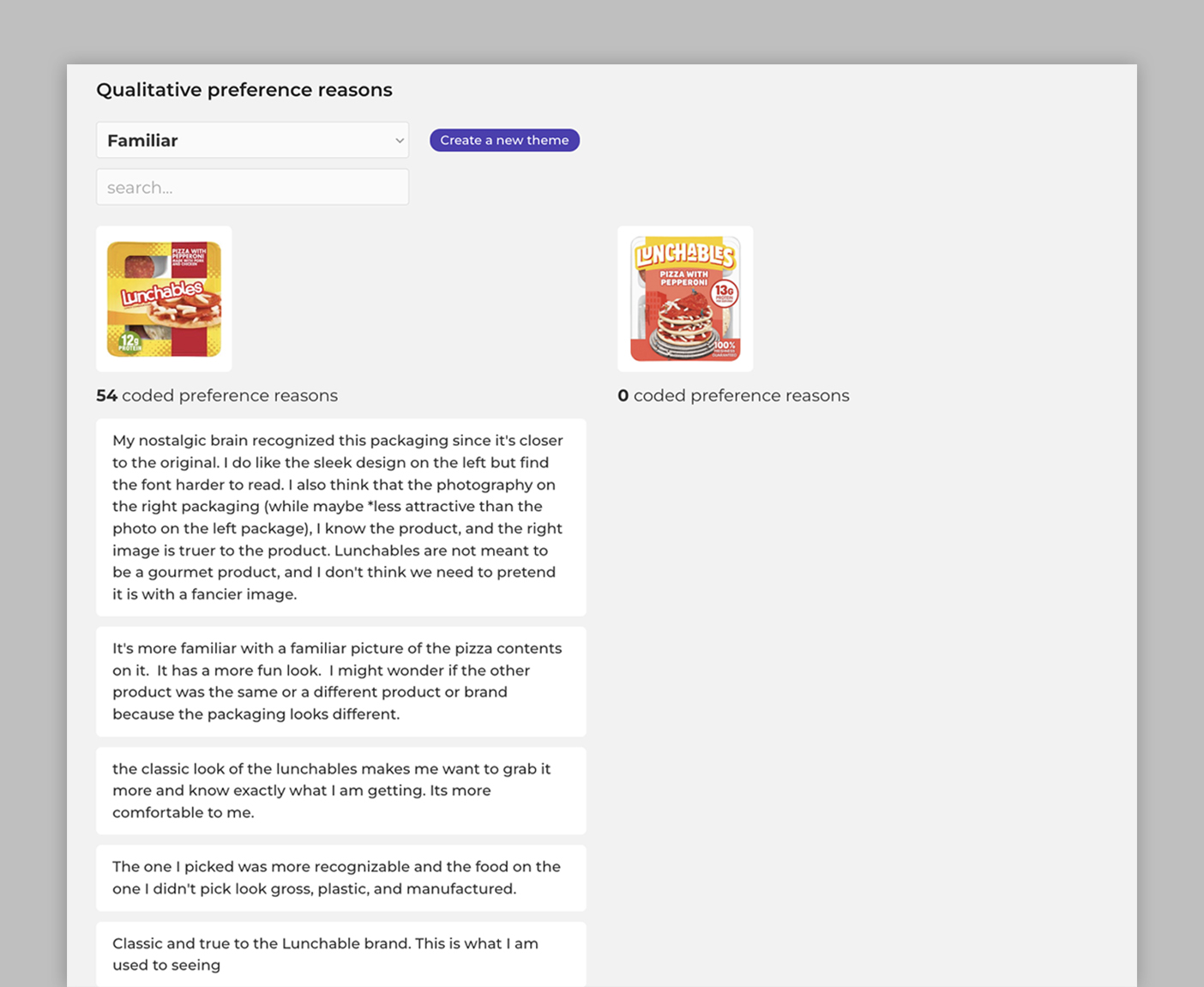 For those that preferred to purchase this design, words like "classic," "original," and "nostalgic" were used repeatedly in their explanation of why they chose it. "I grew up on Lunchables," said one. "So this was a nostalgic choice for me." The data also supported this: Committed purchase preference dropped more than 4 points from the old to the new, meaning this redesign could actually hurt sales.
Pepsi Zero Sugar Wild Cherry's redesign is a different kind of example. Using more cherries on the package compared to its previous packaging helped increase appetite appeal, but only modestly. The new look—with all those cherries, and with the new can taking center stage— really impressed consumers in the area of aesthetics. It bested its predecessor by 22 points in this area. As a brand in the food and beverage space, this could no doubt spark inspiration about how to incorporate traditional taste imagery in creative, and more effective, ways.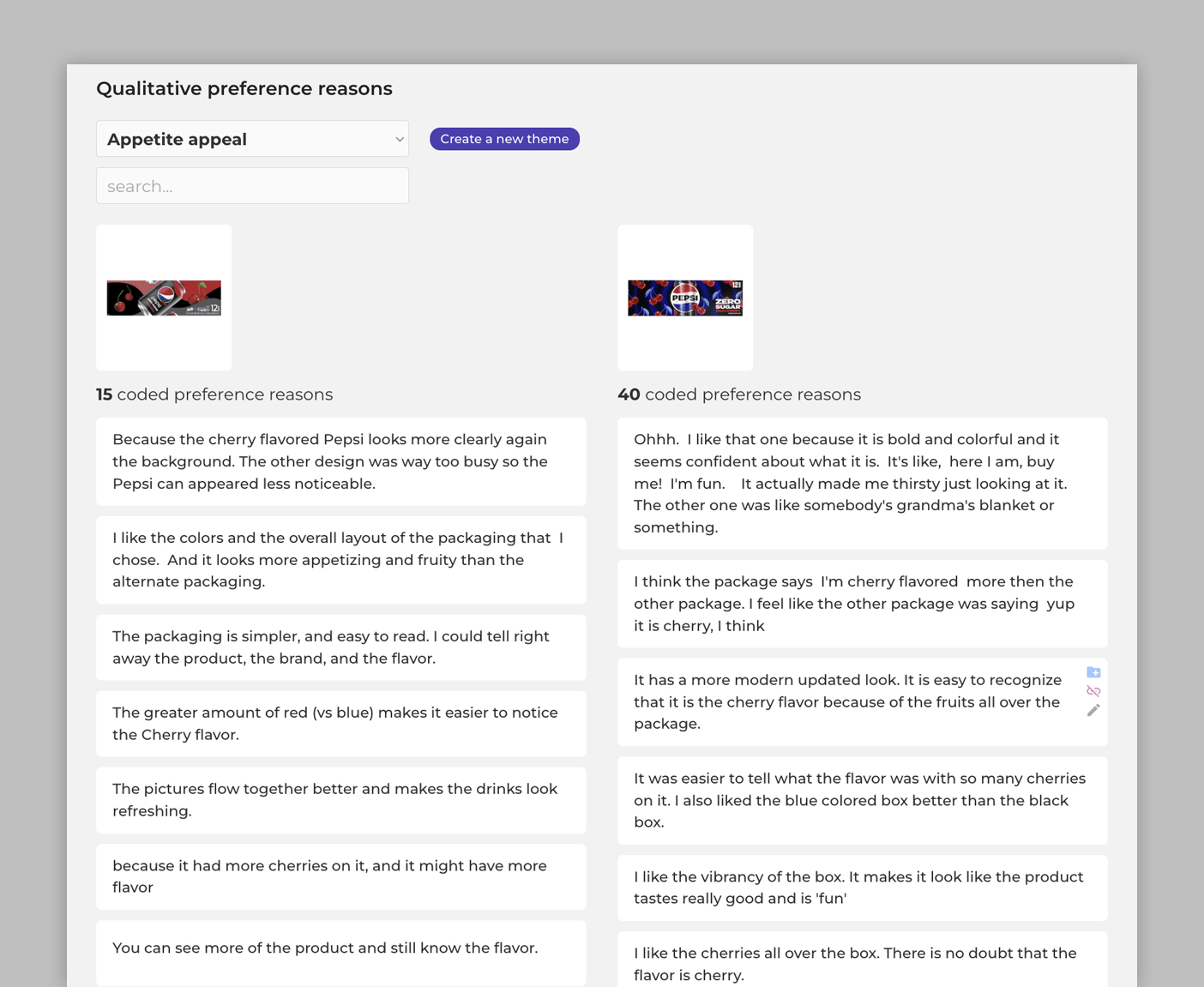 Exploring examples like this is so easy with Designalytics Edge. With just a few clicks, you can find dozens of other brands who have updated the taste imagery on their packaging, and see firsthand whether consumers embraced or rebuffed it—including what exactly these brands did right and wrong in the eyes of consumers.
In the face of such a wealth of data-driven design research—available on demand, anytime—defaulting to the subjective opinion of anyone seems almost quaint. After all, why trust a hunch when you peek behind the curtain and see what actually worked for hundreds of other brands?
Call it the holy grail of objective redesign data. Call it a "cheat code" to design-driven brand growth.
Whatever you call it, Designalytics Edge is about to change the industry. You can see how by signing up for your free, no obligation trial today.
---
When you're trying to grow a brand, you want to make sure what you're doing is heavily researched and based on the consumer. [You're] only interpreting what consumers' wants and needs are.
—Byard Ebling, former vice president of marketing for La Mexicana salsa, a 2022 Designalytics Effectiveness Award winner
---