In the consumer-packaged-goods industry, there's no doubt that the competition is fierce. In a climate where brand managers are grappling to gain market share, package design may be a seriously-underutilized secret weapon. So how can you make the most of your design?
Designalytics Edge makes it possible to capitalize fully on design-driven growth by providing an unprecedented look at your brand's (and your key competitors') design performance, highlighting opportunities for improvement. Additionally, it provides insight into the efficacy of specific packaging changes and emerging design trends by looking at hundreds of redesigns across categories. The best part is that Designalytics' data is expressly designed to predict business outcomes, so you know that the intelligence you're getting from Edge is centered on brand growth.
Here are a few ways that Edge can help you defend and expand your market share:
Evaluate your own in-market design with consumers for free
Understanding how consumers react to your packaging and why can point to a range of growth opportunities. Is your food imagery not optimally appealing? Is that vital benefit copy difficult to read? Did your recent redesign delete a claim that you assumed wasn't important to consumers, but actually is?
Designalytics tracks and evaluates redesigns for thousands of brands, so there's a good chance consumer data is already available for your brand's recent redesigns. If your brand isn't one we track automatically, don't worry; Edge members can still request a test—for free. (Free tests are only available for designs currently in market. If you want to evaluate one or more pre-market designs, our Versus design screening tool is a stellar option.)
Here are a couple of configurations to consider:
If you've recently launched a redesign, request a test of the new design vs. the prior design to understand early consumer reactions.
If you've recently launched a limited-edition design, see how this performs against your standard packaging.
If it's been awhile since you've changed your packaging, request a test of your current design against a key competitor's design.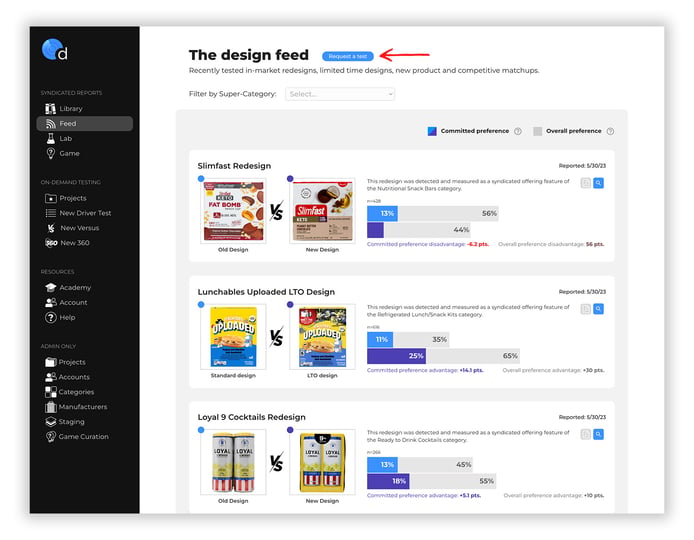 Get a reality check on your design track record and consider improvements to your creative process
When brand growth declines or a new product launch doesn't meet expectations, it can be difficult to diagnose which elements of the marketing mix are underperforming. Because many brands incorrectly assume design has limited impact, it's often not the first factor considered—especially if the design was subjectively chosen and is well-liked by internal stakeholders.
As many designers know, what consumers prefer is often not aligned with stakeholders' preferences—but it is what matters. Designalytics Edge provides opportunities to assess your design performance objectively, both at the level of an individual design and across initiatives at your organization.
Evaluating the performance of a single redesign is straightforward; Edge provides quantitative data on a redesign's overall performance, as well as hundreds of consumer verbatims that help diagnose issues and identify opportunities for refinement.
For an organizational assessment of design performance, The Lab (included with an Edge subscription) allows users to see a high-level view of their company's "win rate" relative to competing manufacturers.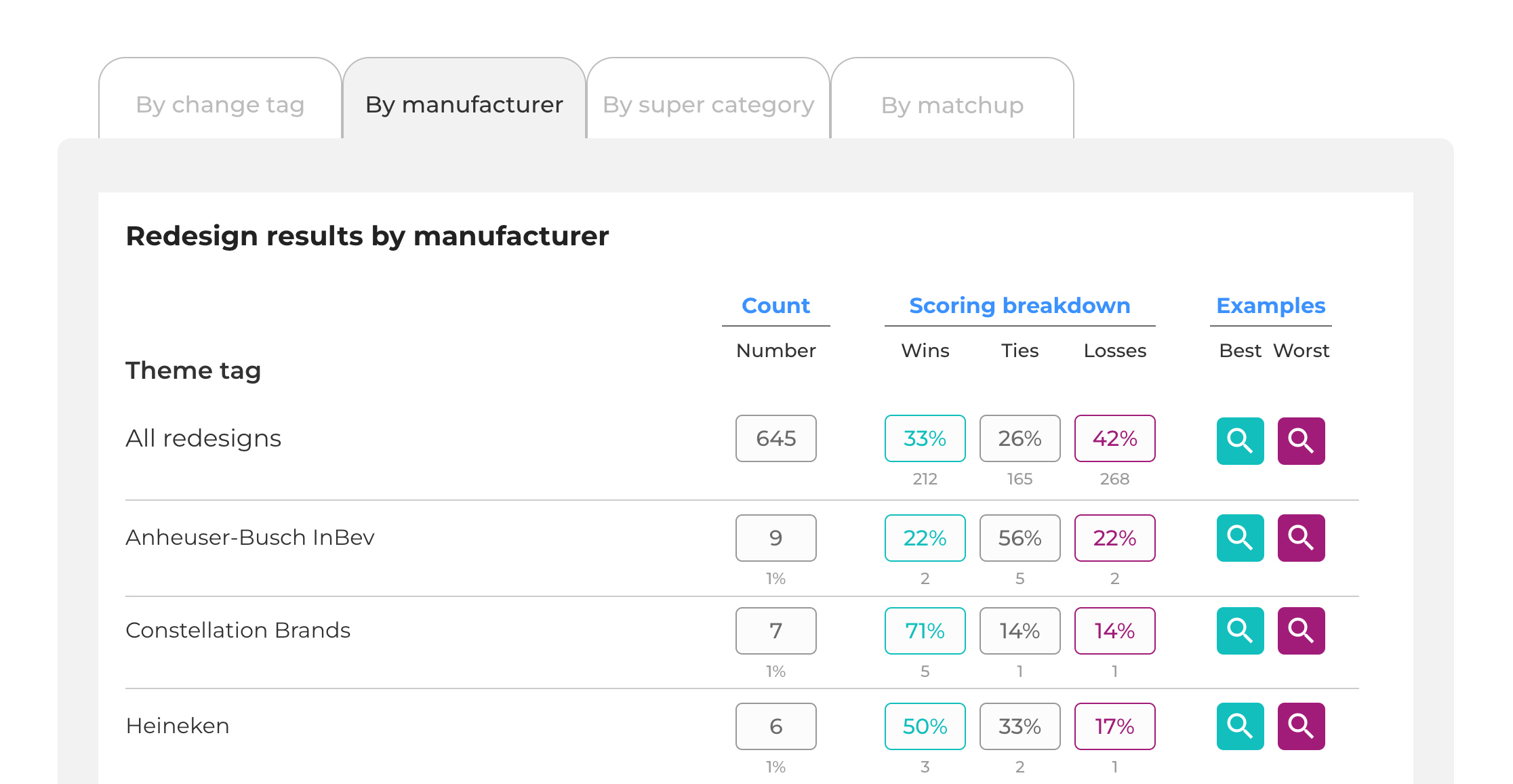 This provides an unprecedented, objective benchmark for CPG companies, and can prompt a much-needed review of their creative processes, tools, and launch criteria. Are we chasing trends before we understand if they're actually effective with consumers? Is our process too subjective? Are we considering consumer feedback too late? These are the kinds of questions that can dramatically improve design processes, but are too seldom asked.
Learn faster and more quickly than your competitors
Not only can Edge help brands identify what their competitors are doing well (or poorly) from a design and communication perspective, but it can also help them identify what no one in their category is thinking about yet. For example: What can health-focused brands in other categories teach a better-for-you snack brand? What can a brand who's planning a limited-edition holiday design take away from other LTO designs?
At a high level, Edge enables brands to adopt a faster, smarter design learning system—from quickly assessing whether a competitor's new look is a threat or an opportunity to steal consumers they may have alienated, to identifying nascent visual trends and strategies with real promise. This type of broad-reaching, proactive design intelligence has never existed before, and the opportunities to use it for design-driven growth are immense.